16" MacBook Pro Now Available
Apple TV 4K With 64GB Storage Faces 4-5 Week Shipping Delay
If you were planning to purchase a new Apple TV 4K with 64GB of storage from Apple in time for the holidays, you may have to look elsewhere.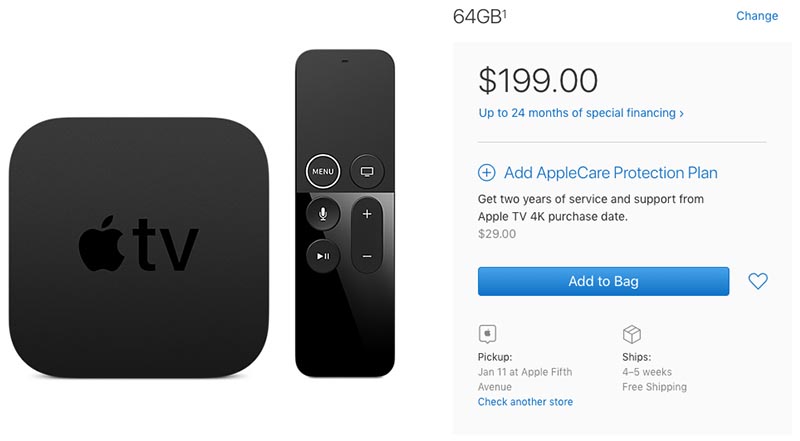 As spotted on
Reddit
, the 64GB model is currently out of stock at most Apple retail stores, and
estimated to ship in 4-5 weeks
on Apple's online store around the world. Orders placed today might not be delivered until as late as early January.
The reason for the delay is unknown. Lengthy shipping estimates can sometimes foreshadow a product refresh, but the Apple TV 4K was just released in late September, so it's unlikely a new model is on the horizon.
Notably, the 32GB model is
still available for pickup
at most Apple retail stores today, and estimated to ship in approximately one week on Apple's online store in the United States and over a dozen other countries we checked.
The latest Apple TV supports both 4K and HDR video playback. The set-top box starts at $179 in the United States.
If you are looking to purchase an Apple TV 4K with 64GB of storage, some resellers such as Best Buy, Costco, MacMall, Sam's Club, Staples, Target, and Walmart may still have stock available online or in stores.