iPhone X Camera Overview: Portrait Lighting, Video Improvements, Front-Facing Portraits and More
With each new iPhone, Apple introduces significant camera improvements, a practice that has established the iPhone as one of the most popular cameras for photography on sites like Flickr.
The iPhone X, as Apple's new flagship device, is no exception. It features new hardware and new features that have established it as the best iPhone camera to date, on par with dedicated point and shoot devices and even DSLRs in some modes. With the iPhone X now widely available, we spent some time with the iPhone X's rear and front-facing cameras to see just what they can do.
There's an all new rear camera in the iPhone X, with two lenses arranged in a vertical orientation, a first for an iPhone. Apple chose a vertical orientation because of space constraints and design changes that required more available surface area for the front-facing TrueDepth camera.
The rear camera has a standard f/1.8 12-megapixel wide-angle lens that's paired with an f/2.4 12-megapixel telephoto lens. Sensors in both lenses have been improved, and the lower aperture of the telephoto lens means it's able to let in a lot more light for sharper images in poor lighting conditions.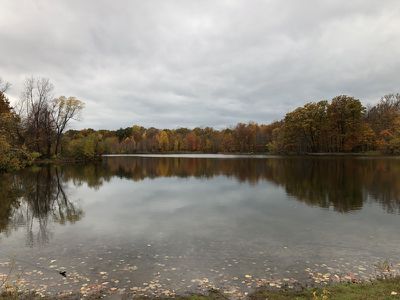 In addition to sensor improvements, Apple has introduced a new color filter for more vibrant photos, and there's a new Apple-designed image signal processor that can detect elements in a scene for faster autofocusing and optimization of scene elements before an image is even captured.
Both rear lenses support optical image stabilization for the first time, for better photo quality in all lighting conditions, and better than ever portraits when using Portrait Mode.


There's also a new front-facing camera system, the TrueDepth camera, which is what powers Face ID with its dot projector and infrared camera and sensors. There's also a high-quality f/2.2 7-megapixel camera built into the TrueDepth system for taking selfies.
With the TrueDepth camera, the front-facing camera in the iPhone X now supports Portrait Mode right alongside the rear camera, so you can create Portrait Mode selfies with an artfully blurred background. Both the front and rear-facing cameras also work with the new Portrait Lighting feature for dynamically adjusting the lighting in a photo.
Photo taking isn't the only improvement in the iPhone X. The rear-facing camera supports 4K video capture at 60 frames per second and 1080p slo-mo video at up to 240 frames per second, both significant improvements over previous-generation devices. New video stabilization techniques, the aforementioned larger sensor, and the new image signal processor all go a long way towards improving video quality.
Along with this detailed look at the iPhone X's camera, we're going to be sharing a lot more iPhone X content over the course of the coming week, so make sure to stay tuned to MacRumors.com and subscribe to our YouTube channel if you haven't done so already.