iOS 11.2 Public Beta Update Introduces Apple Pay Cash
Apple plans to introduce Apple Pay Cash in iOS 11.2 and watchOS 4.2, and starting today, the feature is available for beta testers in the United States. Apple Pay Cash is included in the new iOS 11.2 public beta that is being provided to public beta testers this morning. Some developers running iOS 11.2 are also seeing Apple Pay Cash appear as an option in the Messages app this morning.
Since the beginning of October, Apple employees have been testing Apple Pay Cash in a special version of iOS 11.1 that allowed the feature to be enabled through an internal device certificate. The test was initially limited to corporate employees, but later expanded to retail employees. Apple Pay Cash did not end up shipping in iOS 11.1, but it is apparently ready for iOS 11.2.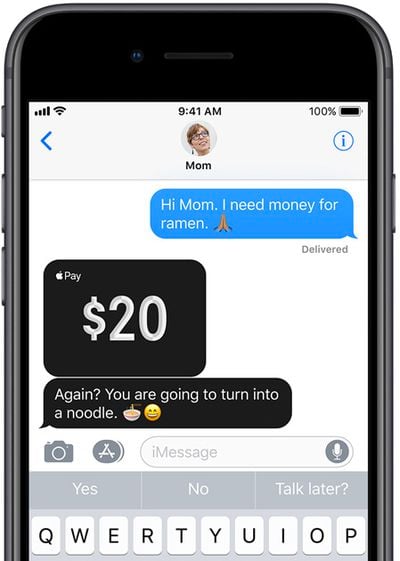 Apple Pay Cash works through the Messages app and is designed to allow for quick person-to-person money transfers, much like Square Cash or Venmo. It's available as a dedicated iMessage app in the built-in Messages app, with cash transferred through iMessage transactions. Though most Apple Pay Cash coverage has focused on the iPhone, money can also be sent using an Apple Watch.
Cash can be sent from a linked debit or credit card, while received cash is stored in an Apple Pay Cash card in Wallet that can be used for purchases or sent to a bank account. Sending cash through a credit card incurs a 3% fee, while sending cash from a debit card is free.


The Apple Pay Cash card available in Wallet is being made available through a partnership with Green Dot, a company that offers prepaid Discover cards. For Apple Pay Cash to work, both parties need to have the feature enabled and activated. Money can only be sent in a one-on-one message, with Apple Pay Cash not available in group messages.
Apple Pay Cash will also be available on the Apple Watch with watchOS 4.2, and users can send cash directly from the Messages app on the wrist-worn device.
To use Apple Pay Cash in today's beta, both people will need to be running the iOS 11.2 public beta. $10 minimum must be loaded onto the Apple Pay Cash card in Wallet, two-factor authentication must be turned on, and an iPhone 6 or later is required. Apple Pay Cash is limited to the U.S. at this time.
Apple first announced person-to-person Apple Pay as an iOS 11 feature at its Worldwide Developers Conference in June, but it was not implemented in any of the iOS 11 betas and towards the end of the beta testing period, Apple confirmed it would be coming in a future iOS 11 update.