Apple today released macOS High Sierra 10.13.1, the first major update for the new macOS High Sierra operating system that was first released to the public on September 25.
macOS High Sierra 10.13.1 can be downloaded directly from the Mac App Store or through the Software Update function in the Mac App Store on all compatible Macs that are already running macOS High Sierra.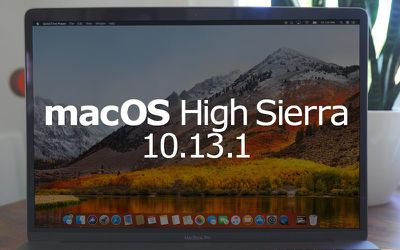 Today's update includes a fix for a serious vulnerability in the WPA2 Wi-Fi standard that protects many modern Wi-Fi networks. Using a key reinstallation attack or "KRACK," attackers could use a now-fixed exploit in the WPA2 protocol to decrypt network traffic to sniff out sensitive information like passwords.
The macOS High Sierra 10.13.1 update also brings new Unicode 10 emoji like crazy face, pie, pretzel, t-rex, vampire, exploding head, face vomiting, shushing face, love you gesture, brain, scarf, zebra, giraffe, fortune cookie, pie, hedgehog, and more. With skin tone and gender variations, there are hundreds of new emoji in the update, which are also available in iOS 11.1 and watchOS 4.1.
macOS High Sierra introduces APFS, a new more modern file system, HEIF and HEVC photo and video encoding improvements for smaller file sizes without compromising quality, Metal 2, and several new features for Safari, like autoplay blocking for videos and Intelligent Tracking Prevention to better protect user privacy.
For more on what's included in macOS High Sierra and the new 10.13.1 update, make sure to check out our macOS High Sierra roundup.
Update: For older Macs, Apple has also released security updates that address the KRACK WPA2 vulnerability.