Facebook brought its redesigned Workplace apps out of beta today, opening up the business-focused team chat service to anyone who wants to use it.
The new Slack-like apps for mobile and desktop are called Workplace Chat, which have the same functionality as Workplace's existing messaging features, but come as standalone apps for PC, Mac and iOS.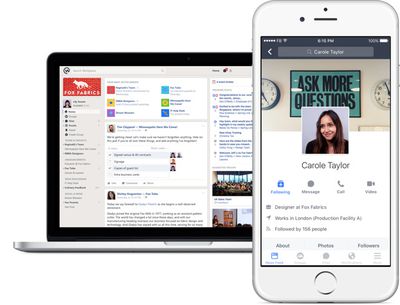 After installing the apps, Workplace users can access messaging features like screen and file sharing, video calling, and private and group messages. Facebook said it also plans to add group video calling to the platform in the coming months.
In addition, Both mobile and desktop apps have redesigned interfaces to make them functionally similar to Facebook's flagship social networking app.
Workplace Premium costs $3 per user for the first 1,000 active users, with $2 and $1 price plans for increasing numbers of users. Workplace can also be used for free and includes the communication and productivity features, but loses the enterprise features and admin support.