A bug in macOS High Sierra is causing users to receive iMessages and SMS texts on Macs and other iCloud-connected devices long after they were originally sent, according to reports that have been gradually building up over the last week or so.
First spotted by AppleInsider, a growing number of complaints on Apple's support forums detail the issue, which is affecting Mac owners with iPads, iPhones, and Apple Watches. The issue has also been picked up on MacRumors' forums, while at least one MacRumors staff member has experienced the same problem.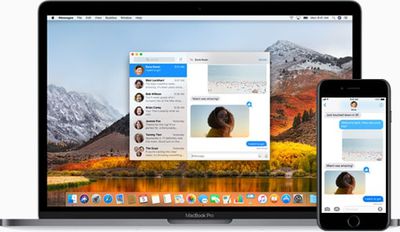 On updating to macOS High Sierra, some users report that iMessages only appear on their Mac after a long delay compared to their iPads and iPhones. Others have noticed that notifications are not coming through at all on other devices connected to the same iCloud account.
Some contributors to Apple's support forum and the MacRumors forum have suggested a couple of temporary fixes, including disabling and re-enabling messages, or sending messages on a Mac instead of an iOS device. Recent beta versions of macOS High Sierra don't appear to solve the problem, making reverting to macOS Sierra the only persistent workaround. Meanwhile, a community bug report has been created to alert Apple to the issue.
There's some speculation that the bug could be related to changes to the way iMessages function behind the scenes. Apple is working to bring iCloud syncing to iMessage in macOS High Sierra and iOS 11, so that deleting a message on one device removes it from all devices linked to the same account, for example. The advertised feature was pulled when the two operating systems were launched, but Apple hopes to introduce it later this fall.