At its annual Adobe MAX Creativity Conference, Adobe today announced a range of updates that are being introduced to its Creative Cloud software.
Three Adobe apps that have been available in a beta capacity are officially launching, including Adobe XD CC for user interface design, Adobe Dimension CC for 2D to 3D compositing, and Adobe Character Animator CC for 2D character animations.
Adobe is also introducing a new Lightroom CC app that includes a built-in cloud storage feature, and it is announcing feature updates for Photoshop CC, InDesign CC, Illustrator CC, and Premiere Pro.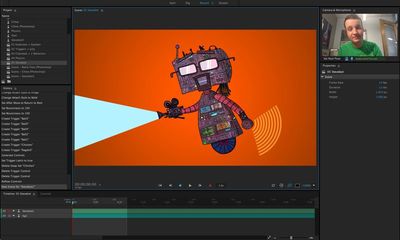 "Adobe continues to lead the creative revolution, driving modernization and innovation that will accelerate the creative process across all platforms and devices," said Bryan Lamkin, executive vice president and general manager, Digital Media at Adobe. "Today, we unveiled a new generation of Creative Cloud, with a wide spectrum of capabilities--from new experience design, 2D animation and 3D rendering apps to an all-new, cloud-based photography service. These tools enable creative professionals and enthusiasts to express themselves and reach their full creative potential anytime, anywhere, on any device."
Photoshop CC is gaining 1,400 new brushes from Adobe's acquisition of KyleBrush.com, and Adobe is introducing new tools and tutorials that are designed to make it easier for first-time Photoshop users to learn how to do basic tasks in the app, which are available in a new Learn Panel.


Adobe is integrating the Lightroom cloud catalog into Photoshop for quicker access to Lightroom photos, there are new tools for editing 360 spherical panoramic images, and new Range Masks make it easier to make local adjustments with fine control.
Photoshop CC also features improved brush preset management tools, automatic brush stroke smoothing, better select and mask tools, a new Curvature Pen tool, improvements for painting performance, and a symmetry painting experience for creating mirrored brush strokes along a symmetry axis.


Illustrator CC features an updated Essentials workspace with a new Properties Panel that offers up dynamic access to controls and better panel organization for less clutter on the workspace. It also includes support for more artboards (up to 1,000), an option to disable Zoom to Selection, support for variable fonts, and global color swatches.
InDesign CC includes supports for endnotes and annotations, enhancements to object-styles, paragraph borders, and an option to manage text in Creative Cloud Libraries.
Updates for Premiere Pro CC and After Effects CC that were detailed earlier this year at IBC are also launching today.
Adobe Stock, Adobe's collection of professionally created images and videos, is being updated with new motion graphics templates for Premiere Pro and After Effects, and TypeKit is using Adobe Sensei technology for a new feature that lets users search for fonts using a photograph.
These are just a handful of the new features Adobe is introducing today. Details on all of the updates debuting across Adobe's range of apps can be found on the Adobe website.
Adobe is planning to raise the price of its Creative Cloud plans in North America in the near future. Starting on March 1 or when a contract is up for renewal, pricing across all plans will increase. The Adobe CC plan that provides access to all apps for individuals, for example, will be priced at $52.99 instead of $49.99 going forward. Pricing information is available on Adobe's Creative Cloud membership site.