Ahead of the 2017 International Broadcasting Convention set to take place on September 14, Adobe has shared details on a series of updates to its video and sound editing software that will be announced at the event. Adobe's fall Creative Cloud updates will focus on Premiere Pro, After Effects, Character Animator, and Audition, introducing new tools for VR, animations, and audio.
Premiere Pro CC, Adobe's video editing software aimed at professionals, features collaboration tools that let users work on multiple open projects simultaneously. Using a tab-based structure, Premiere Pro CC eliminates the need to open and close multiple timelines and allows for copying parts of one project into another with just a few clicks.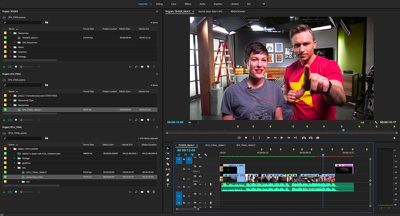 There's also a feature for locking a project to prevent edits from being overwritten while also leaving read-only access available, and there are new tools for viewing personal auto-save history, bringing an asset from a previous auto-save to the current version, and creating a new Team Project from an auto-save.
The Essential Graphics panel in Premiere Pro has been updated with time and position-based controls for building Responsive Design into motion graphics, there's a new feature for selecting and manipulating multiple graphic layers at the same time, and there are Motion Graphics templates included in Adobe Stock.


Other new features in Premiere Pro include an updated startup experience that walks users through the editing process, new color labels, and automatic gap removal to make editing the timeline faster and more streamlined.
After Effects CC, Adobe's pro-level app for creating motion graphics and visual effects, includes new Data Driven Animations that use JSON data to create charts and graphs, and expressions for path points on masks, shape layers, and paint brush strokes. Improvements have been made to performance when rendering layer transforms, motion blur, and other effects on the GPU, there's a font menu with live previews, and Adobe has added a new visual map for mapping keyboard shortcuts.


Both After Effects and Premiere Pro feature an immersive display, letting editors experience the content they're editing while wearing VR headsets like the Oculus Rift or the HTC Vive. There are also new orientation-based audio editing tools, new immersive video transitions, and new effects like VR Blur, VR Glow, VR Sharpen, VR De-Noise, and VR Chromatic Aberration.
Adobe Character Animator CC features a new Controls panel for posing and animating characters, a Triggers & Behavior panel, auto stapling for limbs, eye and eyebrow improvements for more expressive looks, and several new behaviors including Layer Picker, Collisions, and Fader. Visual representations of audio waveforms and integration with Adobe Audition have been added, and there are improvements to lip syncing and walk behaviors.


As for Audition CC, Adobe's professional audio editing app, there are editing and performance enhancements, auto-ducking in the Essential Sound panel, smart input monitoring, a new Timecode overlay display, and more.


Adobe plans to make all of these features available to its Creative Cloud users later this year. Creative Cloud plans are available from Adobe.com and start at $50 per month for an individual plan.