Microsoft has revealed a redesign coming to its Outlook apps for Mac and Windows platforms, which is described as aiming for a "simplified" user interface that falls in line with the Outlook app for iOS. The Verge detailed the new and less complex version of Outlook on desktop, which was first spotted by MSPowerUser.
The Mac and Windows apps will feature a single-line ribbon that will be customizable so users can control which buttons are available, tailoring the email client to more easily accomplish their most common tasks. Clutter will be reduced with a smaller set of default commands, and the left navigation panel will include quicker access to folders across multiple accounts, visually similar to the switcher in Outlook on iOS.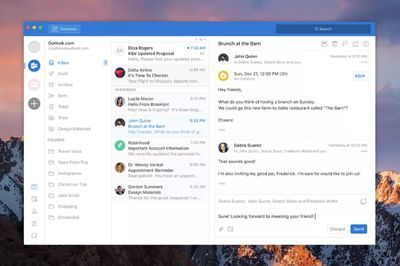 Microsoft is said to have admitted that "MacBooks are popular amongst key influencers and decision makers," so the company decided to overhaul its email client "to win these users by delivering the best Outlook has to offer." Besides the design changes, Outlook for Mac will gain improvements to search and its calendar functions.
Search will become faster and "more reliable," as well as be easier to access in the app's top right corner. For the calendar, users will see an overall improved interface that makes managing appointments less of a hassle.


Microsoft hasn't yet detailed when the new Outlook will launch for Mac and Windows, but the company is said to be testing internal versions of the software for both platforms. Before the major update, a few minor additions will launch on Mac, including the ability to slide-to-delete messages via Apple's Magic Trackpad and a way to insert tables into emails.
It's expected that the redesigned app will debut in updates first made available for Office 365 subscribers, and then launch in Office 2019.