Apple today announced it will be opening two so-called "Mac Labs" at the KM Music Conservatory's campuses in the Indian cities of Chennai and Mumbai. The labs will teach students how to create music using Logic Pro X.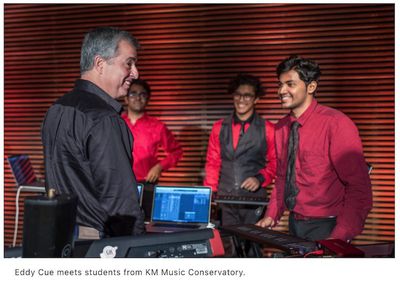 Apple also said it will fund 10 full time musical scholarships at the learning institution for students from underprivileged backgrounds.
Apple's services chief Eddy Cue traveled to Mumbai this week, where he announced the news in person alongside A.R. Rahman, an Oscar-winning composer, producer, musician, and founder of the KM Music Conservatory.
"It's an honour to be in Mumbai and I am humbled to be in the presence of the talented A.R. Rahman to make this announcement together," said Cue. "Apple Music and the KM Music Conservatory share a deep love in discovering, sharing and nurturing musical talent and we're proud to be supporting such an institution that is investing in the future arts and music community."
The A.R. Rahman Foundation founded the KM Music Conservatory in 2008. The higher education institution offers a range of part-time and full-time courses in Western and Indian classical music and audio technology.