Upstream suppliers are expected to see strong growth in wearable product operations in the fourth quarter of this year thanks to rising sales of Apple's AirPods and Apple Watch range, according to sources in the supply chain (via DigiTimes).
Quanta, Iventec, Universal Scientific Industrial (USI), as well as Foxconn subsidiaries Shunshin Tech and Luxshare-ICT are all expected to benefit from increased sales in Q4 2017, as Apple achieves supply/demand balance for its AirPods and consumer interest in the latest Apple Watch models increases into the holiday season.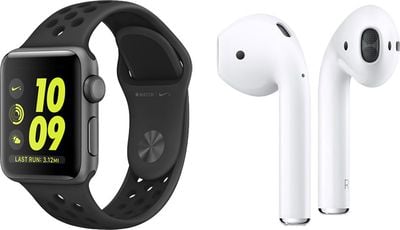 Quanta and USI have been long-term supply-chain partners of the Apple Watch series and are expected to see a significant revenue contribution from the orders, while Shunsin has just recently joined the supply chain to provide SiP services and will begin processing related orders in February or March 2018, the sources noted.

As for the AirPods, the sources pointed out that the shortages have already eased and Apple has also increased its orders for the device.
Inventec is the manufacturer of the AirPods, while the device's proprietary W1 chip that allows seamless pairing is supplied by Luxshare-ICT. In addition to the orders, Luxshare-ICT also supplies connectors, cables and antennas for Mac and iPhone products.
AirPods now ship from the online Apple Store in just three to five business days in the United States, Canada, U.K., Australia, and several other countries around the world. Prior to August, the popular earphones had been in extremely short supply, with a typical wait time of six weeks from order to delivery.
Meanwhile, Apple has been getting backordered Apple Watch Series 3 LTE models out quicker than expected, with several customers who expected their devices in mid-October already receiving shipment confirmations.
All Apple Watch Series 3 models with LTE connectivity list shipment dates of at least three to four weeks when purchased online in the United States, and availability is similarly limited in other countries, but indications are that the wait could in fact be shorter. Non-LTE Series 3 Apple Watch models are readily available in stores and will ship out right away, while Nike+ models won't start arriving to customers until Thursday, October 5.