Firefox today announced that the latest version of its web browsing software -- which it's calling "Firefox Quantum" instead of "Firefox 57" -- will be available as an update for users beginning November 14, with a beta of the browser hitting iOS, Android, and desktop today.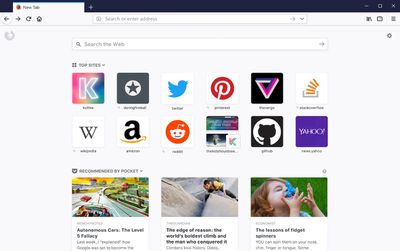 The company said that the biggest advantage of Quantum is its speed, which is twice as fast as Firefox 52 when measured using Speedometer 2.0, a benchmark that simulates modern web applications. Firefox said that Quantum takes advantage of multiple CPU cores offered by today's desktop and mobile devices, instead of running on just one core, resulting in a "dramatically faster" web browser.
The company updated a few other features so that Quantum runs smoothly, including making sure that the tab open on the browser downloads and runs prior to other tabs in the background. When compared to Chrome -- which Firefox directly compared itself to in a new video -- Quantum is said to be faster than Google's browser, "while consuming roughly 30 percent less RAM."
The user experience of Quantum has also been overhauled and enhanced through the company's Photon project, which tasked Firefox's design team to research and understand "how users perceive web browsers." The team's findings have resulted in a more "modern" design that's built for "task focused" users. Quantum also comes with more direct integration with read-it-later app Pocket, which Mozilla acquired last year.
The new, minimalist design introduces square tabs, smooth animations, and a Library, which provides quick access to your saved stuff: bookmarks, Pocket, history, downloads, tabs, and screenshots. Firefox Quantum feels right at home with today's mouse and touch-driven operating systems: Windows 10, macOS High Sierra, Android Oreo, and iOS 11.
Quantum will also continue to support Firefox's "Tracking Protection" privacy technology, which the company found to mitigate invasive tracking of online activity throughout various studies. Specifically, Firefox's technology demonstrated a 67.5 percent reduction in the number of cookies set to a user's browsing habits during a visit to 200 websites. These improvements also allow for performance enhancements, according to Firefox, reducing page load times by as much as 44 percent and lowering mobile data usage by 39 percent on the sites visited in the study.
Firefox encourages users to sign up to be notified regarding news about the new Quantum browser, which can be done on the company's website right here. Ahead of the November 14 public launch, developers can also download the Firefox Quantum: Developer Edition starting today.