First iPhone 8, Apple TV 4K, and Apple Watch Series 3 Orders Begin Shipping Out to Customers
The first iPhone 8, iPhone 8 Plus, Apple TV 4K, and Apple Watch Series 3 orders began shipping out to customers today ahead of a promised delivery date on Friday, September 22, the official launch date for all of the devices.
Apple hasn't updated its order statuses from "Preparing for Shipment" just yet, but packages shipping via UPS are already in transit and can be tracked using a UPS My Choice account or in some cases, by reference number on the UPS website after inputting a phone number associated with an order.
As MacRumors forum members have discovered, many iPhone 8 and 8 Plus devices are shipping from Pennsylvania, while some Apple Watch and Apple TV 4K orders are coming from China. Official shipment notifications from Apple should start going out soon. Not all orders are trackable just yet.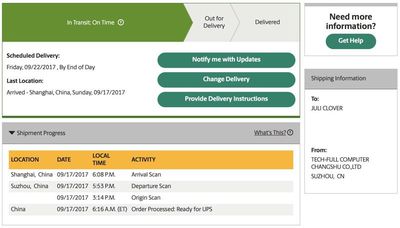 Pre-orders for the three devices started on Friday, September 15 at 12:01 a.m. Pacific Time, and initial orders shifted to preparing for shipment across Friday night and Saturday afternoon.
While newly released iPhone models often sell out following pre-orders, supplies of the iPhone 8 and iPhone 8 Plus are plentiful. SIM-free and some T-Mobile models are listing shipping dates of one to two weeks for home delivery, but are readily available for in-store pickup. Other models remain in stock.
Launch day supplies in retail stores around the world should also be largely available, and the traditional stock shortages and long lines that we generally see before an iPhone launch aren't likely to happen with the iPhone 8 and 8 Plus.
As for the Apple Watch Series 3 with cellular functionality, that's harder to come by. LTE Series 3 Apple Watches have largely sold out at this point and won't ship out for a good three to four weeks. Non-LTE models remain in stock.
The new Apple TV 4K is also a bit more limited than the new iPhone models, and orders placed now won't be delivered until October, with the 64GB model harder to come by than the 32GB model.
The first Apple Watch Series 3, Apple TV 4K, and iPhone 8 and iPhone 8 Plus orders will begin arriving to customers on Friday, September 22, with customers in Australia and New Zealand being the first to get their hands on the new devices.