EE will be the exclusive mobile network in the U.K. to offer a tariff for the new LTE-capable Apple Watch Series 3 when it begins shipping later this month.
Announced at Apple's media event on Tuesday, the latest version of the smartwatch contains an eSIM that can connect to a 4G LTE network so users can make and receive calls on their wrist, while watchOS apps can make use of the mobile data connection while untethered from an iPhone.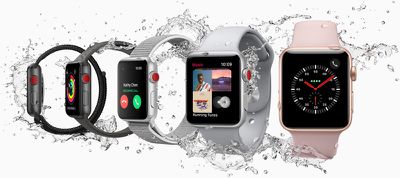 According to the BBC's Dave Lee, the EE tariff for the Apple Watch Series 3 will be £5 per month for existing EE iPhone contract holders, with the calling function on the watch using the same number as the owner's phone.
EE customers will be able to sign up for the new tariff when the Series 3 Apple Watch becomes available for pre-order on September 15, costing £399 with cellular connectivity and £329 without. Orders for the new watch are expected to arrive on September 22, which is the official launch date of the device.
Apple only mentioned EE as a U.K. carrier for the Apple Watch Series 3 during its media event yesterday, but it's likely that other U.K. networks will offer their own tariffs as the market for the LTE smartwatch matures.
Update: MacRumors reader Matt Graham contacted O2 support, who confirmed to him that the O2 network will also be supporting 4G LTE on Apple Watch Series 3, although no firm date was given.