Logitech resurrected the trackball device today with its announcement of the MX ERGO, which the company is calling its "first new innovative trackball in nearly a decade".
Pitched to consumers looking for alternatives to mice and touchpads, the Bluetooth-based MX ERGO features an adjustable metal hinge with angle options at either zero or 20 degrees for personalizing the comfort level, which improves wrist posture and pronation, according to Logitech.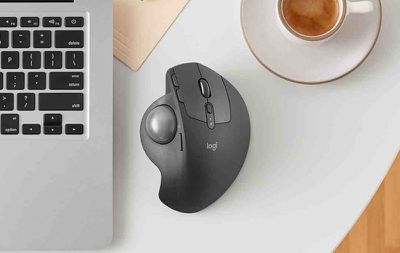 "We are so excited by this new trackball. It is back, better than ever and the idea for this trackball innovation was inspired by our users, who invented creative ways to achieve their desired level of comfort, sometimes adding additional wedges under their trackball for elevated angles," said Anatoliy Polyanker, global portfolio and brand director at Logitech. "The MX ERGO is our first adjustable trackball that delivers on the need for elevated comfort in a beautiful design."
The sculpted shape is designed to offer full palm and finger support, with a soft rubber on top for a comfortable grip over many hours of work. An LED light indicates when "precision mode" is activated using the dedicated button on the side of the MX ERGO. This special mode is said to allow the user to instantly change cursor speed and accuracy.
The device also supports multi-device connectivity through Logitech's Easy-Switch and Logitech Flow software, which allows users to seamlessly switch between two computers with one mouse, as well as copy and paste content, images and documents between them.
The rechargeable battery lasts up to four months on a full charge, depending on usage, and Logitech reckons the MX ERGO can give a complete day of work with just one minute of charge if the device is low on power.
The Logitech MX ERGO is priced at $99.99 and should be available to buy on the Logitech website and select retail stores throughout the U.S. in September.