Surtees Studios recently announced it has released a public beta of Bartender 3 for testing on macOS High Sierra and macOS Sierra. It's a free update available within Bartender 2, which costs $15 after a free four-week trial.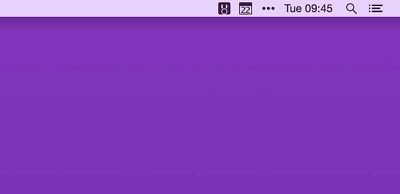 The popular tool for rearranging or hiding Mac menu bar items has been completely rewritten in Swift, according to the release notes.
Bartender 3 also no longer requires the Bartender Helper to be installed in menu bar apps in order to control them. As a result, Bartender is no longer able to display the Bartender Bar beneath the menu bar—only within it.
The change was necessary since, in macOS High Sierra, Apple has apparently tightened its System Integrity Protection security feature, preventing system items like Spotlight search from being controlled by Bartender 2.
iStat Menus 5 was also recently updated with improved support for macOS High Sierra and MacBook Pro, MacBook, and iMac models released in 2017.


The popular Mac system monitor also gained improved per-process network monitoring, improved per-process memory monitoring in OS X El Capitan and macOS Sierra, improved Bluetooth battery monitoring, and improved disk monitoring performance, plus a fix for an issue with the sun position in light map.
iStat Menus is built into the macOS menu bar, providing power users with convenient access to system information, such as CPU and GPU usage, memory stats, fan speeds, temperatures, disk usage, and battery life.
iStat Menus 5 is $18 on developer Bjango's website, with a free 14-day trial available. The latest update is version 5.32.
(Thanks, Neil T.!)