Apple's iPad Sales Up 15% Year-Over-Year in 3Q 2017
Apple in June introduced new 10.5 and 12.9-inch iPad Pro models with new features like a faster processor and an improved ProMotion display with a 120Hz refresh rate, and it appears these new tablets are appealing to consumers.
Apple sold over 11.4 million iPads during the third quarter of 2017, according to today's earnings results, bringing in nearly $5 billion in revenue for the company.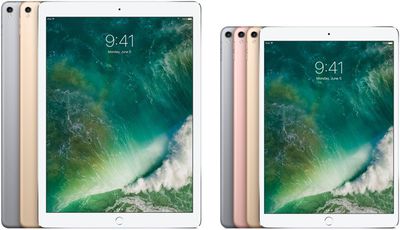 That's up 15 percent from the third quarter of 2016, where Apple sold just under 10 million iPads. Compared to the second quarter of 2017, iPad sales are up an impressive 28 percent, indeed suggesting the new iPad Pro models have been a hit.
Apple also released a low-cost revamped "iPad" earlier this year, and its $329 price tag combined with a speedy A9 processor may also be driving iPad sales. iPad sales may climb even higher next quarter as the new iPad Pro models were introduced towards the end of the third quarter in June.
At 11.4 million iPads sold, Apple far exceeded analyst expectations. Many analysts forecasted a decline in sales, predicting Apple would sell only 7 to 9.8 million iPads during the quarter.
Prior to mid-2016, Apple saw a 10 quarter decline in iPad revenue, but numbers have climbed since the introduction of the iPad Pro and Apple's effort to position it as a full PC replacement.