Microsoft has quietly posted two new accessories onto its online storefront, called the "Modern Keyboard" and "Modern Mouse" (via Engadget). Both devices are built to visually match the company's line of Surface products and connect to Windows PCs, but the Modern Keyboard will also connect to any macOS and iOS device that supports Bluetooth 4.0.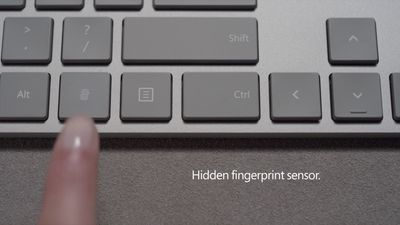 The Modern Keyboard has a low profile with an aluminum frame that Microsoft says is "virtually indestructible," while still remaining sleek. It can also be used wirelessly through Bluetooth 4.0 or with a wired connection, includes a rechargeable battery that can last up to two months on one charge, and weighs about 14.79 ounces.
Notably, the Modern Keyboard includes a hidden fingerprint sensor located between the Alt and Ctrl keys that lets users unlock their Windows 10 devices with a simple finger press using Windows Hello. Although the keyboard can be used on a Mac, iPhone, and iPad to type, the fingerprint unlocking feature is not compatible with Apple devices.
Microsoft said that its goal was to seamlessly blend the fingerprint sensor into a key on the keyboard, "so it would appear to be any other key."
Our vision was to blend the Fingerprint reader into a keyboard, so it would appear to be any other key.

We iterated relentlessly to improve each layer, making sure they came together to create a flawless typing experience that felt like any other key.
Microsoft's new keyboard falls in line with a similar product requested by Mac fans since the debut of Touch ID within the MacBook Pro's keyboard last year, which would be a Magic Keyboard for Mac with Touch ID included somewhere on the device. Last week, Apple launched a new Magic Keyboard with a number pad, but it lacks a Touch Bar and Touch ID.
The Modern Mouse is made out of similar metal material as the keyboard and includes "premium precision pointing and clicking," according to Microsoft, but it lacks compatibility with macOS. It also uses AAA batteries with a battery life of around 12 months.
Both devices have a "coming soon" banner on their pages, so it's unclear when exactly the accessories will launch. When they do, users will be able to buy the Modern Keyboard for $129.99 and Modern Mouse for $49.99.