Apple Takes Risk By Telling Chinese Chat Apps to Disable 'Tip' Functions
Apple has told several Chinese social networking apps to disable their "tip" functions to comply with App Store rules, according to executives at WeChat and other companies.
The tip functions in Chinese messaging platforms are free to use and allow people to send authors and other content creators monetary tips through transfers to mobile wallet accounts. However, according to The Wall Street Journal, Apple has decided that tips are equivalent to in-app purchases – similar to buying games, music, and videos – therefore Apple is entitled to a 30 percent cut of every transaction.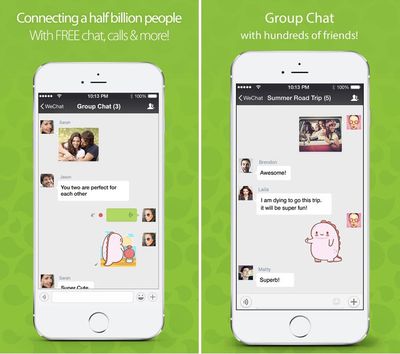 WeChat on iPhone
The move by Apple appears to be a way to eke out additional revenue from Chinese iPhone users as part of a broader effort to increase its market share in the country. According to research firm IDC, Apple's market share in China dropped from 16 percent in Q1 2015 to 9 percent in Q1 2017, while the iPhone has
fallen to fourth place
behind Chinese brands Oppo, Huawei, and Vivo.
On the other hand, Apple's App Store revenue in China overtook its U.S. App Store revenue in 2016 and became the biggest App Store market in the world. Making the tip function an in-app purchase in China's wildly popular chat apps would seem to be a sure-fire way to increase Apple's revenue. However, Apple's pressure on messaging platforms like WeChat is a risk and threatens to alienate huge Chinese companies.
Some social-networking apps have likened Apple's tactic to arm-twisting, according to The Wall Street Journal. Apple is said to have told chief executives at two companies that if they refuse to make the change, updated versions of their apps won't be made available and they could be kicked out of the App Store. "We don't charge anything as the platform, but Apple gets 30 percent for doing nothing," one of the executives reportedly fumed.
The annoyance stems from the way the tipping culture is viewed in China. Chinese app developers see tipping as fundamentally different from in-app purchases because users only tip voluntarily as a mark of appreciation when they consume content. But the biggest worry for Apple could be whether the Chinese government decides to intervene and side with the tippers.

One executive says his company is talking to the Ministry of Industry and Information Technology, a regulator, about whether Apple is imposing unfair rules by turning tipping into in-app purchases. MIIT says it isn't involved. The People's Bank of China, which regulates electronic payments, didn't respond to a request for comment.
Apple has suffered at the hands of Chinese state regulators before. But Apple also risks frustrating China's biggest company Tencent Holdings Ltd, the developer of WeChat, which has 938 million active monthly users. The messaging service works almost like an operating system all of its own, boasting multiple mini-apps that allow users to pay bills, book hotels, browse media, and more, without ever having to leave the chat platform. The nature of the system itself could be a threat to Apple's app revenue, while WeChat is arguably more important to Chinese smartphone users than any individual phone brand – iPhone included.
WeChat is in talks with Apple to try to find a new solution to the tipping problem and come to an alternative agreement, according to people familiar with the matter.