Opera web browser has undergone a major user interface redesign that features quick access tools to popular messaging apps including WhatsApp, Telegram, and Facebook Messenger (via TechCrunch).
Codenamed "Reborn", the design overhaul project has been evident in beta builds for some weeks, but the new browser version is now available as a stable release and existing users should receive the update automatically over the next few days.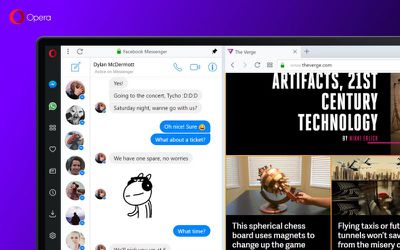 The messaging service access appears as sidebar icon for each chat platform, which invokes a popup with existing conversation lists. Users are able to start chatting from the sidebar while they browse the web. Chat app shortcuts are also displayed on the Speed Dial homepage.
Buttons and tabs have been reworked, with more prominent shadows and subtle animations. Also included in the redesign are new-look Speed Dial themes, refreshed icons, and a new dark mode featuring dark toolbars.
Opera also continues to include a free VPN and a built-in ad blocker. The web browser is a free download for Mac from the Opera website.