Apple today announced the launch of a new LivePhotosKit JavaScript-based API that's designed to make it easy to embed Live Photos taken with Apple's latest iPhones into websites.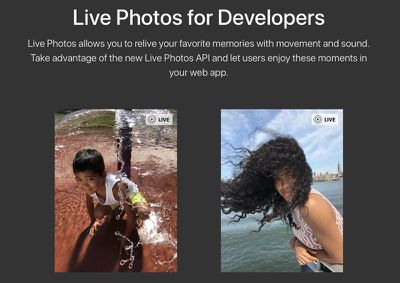 This new JavaScript-based API makes it easy to embed Live Photos on your websites. In addition to enabling Live Photos on iOS and macOS, you can now let users display their Live Photos on the web.
Introduced alongside the iPhone 6s and iPhone 6s Plus in 2015, Live Photos are designed to add life and vitality to the standard still photo by adding a bit of motion. A Live Photo captures an extra 1.5 seconds of movement before and after a shot, animating an image with movement and sound.
Live Photos can be captured using the iPhone 6s, 6s Plus, SE, 7, and 7 Plus, and can be viewed on all devices running iOS 9, OS X El Capitan, and watchOS 2 or later.
Though Live Photos have been around since 2015, few social networks support them, and there have been limited ways for non-Apple users to view them. The addition of a LivePhotosKit API may help make Live Photos more popular.