Apple Warns iCloud Users Some Disabled Services Were Accidentally Re-enabled in iOS 10.3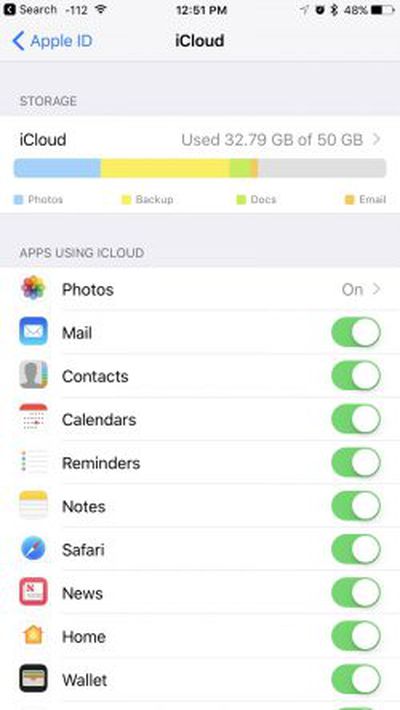 Apple today sent out emails to a small number of iCloud users, warning them that a bug in iOS 10.3 may have caused some iCloud services that had been disabled to be mistakenly re-enabled.
The email asks iCloud users to revisit their iCloud settings to make sure to turn off any service that might have been turned on through the iOS 10.3 update.
It's not entirely clear which iCloud services might have been affected, but MacRumors reader Karl, who sent us the email, said that he typically disables iCloud Mail. Following the update, he found the Mail option turned back on.
We discovered a bug in the recent iOS 10.3 software update that impacted a small number of iCloud users. This may have inadvertently reenabled some iCloud services that you had previously disabled on your device.

We suggest you go to iCloud settings on your iOS device to make sure that only the services you'd like to use are enabled.
Learn more about how to manage your iCloud settings or contact AppleCare with any questions.

The iCloud team
iOS 10.3, released on March 27, introduced a new Apple Filesystem among other major features like Find My AirPods, plus it included an overhauled iCloud storage breakdown, which may explain why some iCloud services were mistakenly turned back on.
To check which iCloud services are enabled on your iOS device, open the Settings app and scroll down to the "iCloud" section. A list of apps and services using iCloud is front and center, and anything that was enabled via iOS 10.3 can be turned off using the toggle buttons.
A wide range of first and third-party apps and services use Apple's iCloud feature, including Photos, Mail, Contacts, Calendars, Reminders, Notes, Safari, News, and more.
Update: According to Apple, iCloud Photo Library, iCloud Keychain, and Find My iPhone were not affected by the issue. The bug has been fixed in the iOS 10.3.1 update, so those who have not yet updated to iOS 10.3 but choose to update to iOS 10.3.1 will not be impacted by the bug. Apple has not shared how many users were affected by the bug but says not everyone who updated to iOS 10.3 will experience it.