Apple today began sending out emails to customers who purchased popular automation app Workflow in the last few weeks, letting them know that they'll be receiving a refund for the purchase price of the app.
Apple is handing out refunds because following its recent acquisition of the Workflow app and team, it made the Workflow app free to download and removed some key functionality.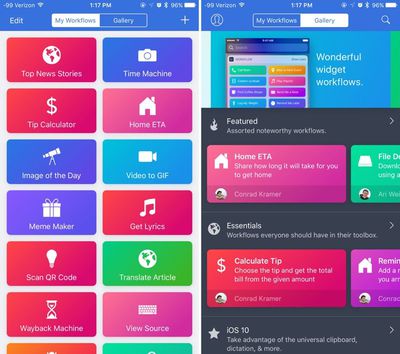 A MacRumors reader shared his refund email with us, and we've also seen several reports of Workflow refunds from Twitter.
Dear iTunes Customer,
Thank you for purchasing Workflow by DeskConnect, Inc. Workflow is now available for free in the App Store. Since you recently purchased this app, we have issued you a full refund in the amount of $3.23. These funds will be applied to your original payment method and may take up to five business days from the issue date to post to your account.

Regards,

iTunes Support Team
http://www.apple.com/support/itunes/ww/
For those unfamiliar with Workflow, which is now owned by Apple, it's an automation tool that allows users to create a variety of workflows to automate tasks like creating GIFs from a series of photos, translating an article, posting photos to multiple social networks at once, calculating a tip, and tons more.
Following Apple's acquisition of Workflow, there was an update to remove certain features, including workflow functionality that involved Google Chrome, Pocket, LINE, Telegram, and Uber, likely for legal reasons.
Apple plans to keep Workflow available in the App Store, and it is now a free download. [Direct Link]