U.S. Music Industry Revenue Grew 11% in 2016 Thanks to Streaming Music Services
Estimated retail revenues from recorded music in the United States grew 11.4 percent to $7.7 billion in 2016, according to the Recording Industry Association of America. Streaming music revenue from companies like Spotify, Apple, Pandora, and YouTube accounted for 51.4 percent of that total and for the first time, contributed the majority of the year's revenue.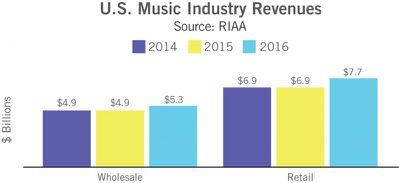 At 11 percent growth, the music industry saw the biggest increase it's had since 1998, a time when six times more CDs were sold than today. Overall revenue continues to be half of what it was in 1999, and revenues from traditional unit-based sales, including physical products and digital downloads, have continued to decline. Physical sales accounted for just 21.8 percent of music industry revenue in 2016, while digital downloads and ringtones made up 24.1 percent.
Total revenues from streaming platforms were up 68 percent year over year and came in at a total of $3.9 billion. Streaming revenues have seen major growth over the last several years, having made up just 9 percent of total industry revenues in 2011.


All categories of streaming, including paid subscriptions, SoundExchange distributions, and on-demand ad-supported streams, saw growth. Paid subscriptions had the largest growth, accounting for $2.5 billion of the $3.9 billion made from streaming music.
Growth was driven by very strong new user adoption, as the number of paid subscriptions to full on-demand services grew 109% to average 22.6 million for the year, compared with 10.8 million in 2015. Adoption was driven by growth from both new and existing services, as it was the first full year of results for Apple Music, and other leading services like Spotify Premium grew as well.
In a blog post on Medium, Recording Industry Association of America CEO Cary Sherman points out that Apple Music pays the highest royalties to artists, more than Spotify and significantly more than YouTube, which Sherman claims exploits a "legal loophole" to pay creators at low rates.


According to Sherman, while 2016 was "year of significant progress" for the U.S. music business, "recovery is fragile and fraught with risk." Streaming services must make up losses from CDs and digital downloads, and the growth isn't there yet. "Much rides on a streaming market that must fairly recognize the enormous value of music," he writes.