BeatsX Earphones Launch on Apple Store for $150
Apple today officially launched its much-anticipated BeatsX Earphones on its online store for $149.95, after initially delaying the earphones from Fall 2016 and into February 2017. With the delay of BeatsX, Apple focused on the December launch of the AirPods, which have subsequently become hard to come by for those interested in Apple's own Bluetooth headphones.
Apple's website states shipping times of 4-5 business days for the White and Black color options, and 8-11 business days for Blue and Gray. Some Amazon orders for BeatsX suggested the earphones might arrive in late January, but those dates were inaccurately estimated for customers.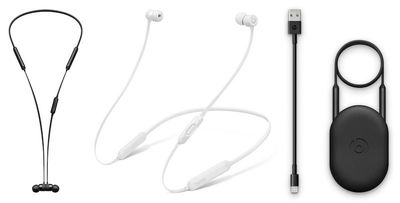 BeatsX are different from the AirPods in a few small ways, including the fact that the earphones are tethered together by a flex-form cable instead of being completely wireless like AirPods. Thanks to the cable, however, BeatsX include in-line remote control media playback, as well as more ease of mind for those afraid of losing the earphones thanks to the cable's security when resting on the user's neck. Further preventing loss is a magnet in each BeatsX earphone that clicks the earphones together when resting against the user's chest.
The BeatsX Earphones also include a W1 chip for easy pairing with any iOS device, as well as a charging system that supports Lightning cables, continuing to deepen the ease-of-use of the Beats brand in Apple's ecosystem. To provide as secure fit as possible, the earphones ship with four interchangeable eartip sizes, as well as removable secure-fit wingtips for when users plan on being highly active with BeatsX.
The new earphones provide up to eight hours of music playback with a full charge, and users can get a full two hours of battery life on five minutes of charge with its "Fast Fuel" charging feature. "Authentic, clear acoustics" provide high-quality sound playback on BeatsX, with optimized noise isolation to give users an "immersive listening experience."
BeatsX were one of the W1-enabled earphones that Apple announced during its September 7 iPhone event, also including the AirPods, Powerbeats3, and Beats Solo3. The AirPods launched on December 13 and availability remains scarce, while the Beats Solo3 have been out since September, and the Powerbeats3 were available to order in October. Now, those interested can pick up BeatsX on Apple.com for $149.95 in both white and black.