iCloud Was Storing Deleted Safari Browser History for Months, but Apple Fixed the Issue
When clearing Safari browser history, iPhone and iPad users expect all records to be permanently deleted from their devices, but it appears Apple's cross-device browser syncing feature caused iCloud to secretly store browsing history for a much longer period of time ranging from several months to over a year.
iCloud was caught storing deleted browser history by software company Elcomsoft, which develops cracking tools for extracting protected data from iOS devices. Speaking to Forbes, Elcomsoft CEO Vladimir Katalov explained that the company had been able to retrieve "deleted" browser history dating back more than a year.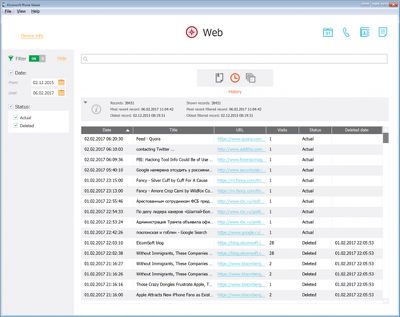 Deleted browser history pulled from iCloud by Elcomsoft


Apple was keeping deleted browser information in a separate iCloud record called "tombstone," and in a press release announcing updated Phone Breaker software for extracting the stored browsing info, Elcomsoft explains that the data was likely kept as part of an iCloud feature that syncs browsing history across multiple devices and ensures it's deleted from all devices when history is cleared.
The point is that Apple keeps synced Safari browsing history in the cloud for much longer than one, three or four months - even for deleted entries. ElcomSoft researchers were able to access records that've been deleted more than a year ago, which means that deleted records are not actually cleaned up from iCloud.
Forbes tried using the Phone Breaker software created by Elcomsoft and was able to retrieve nearly 7,000 records dating back to November of 2015. Site names, URLs, Google searches, visit counts, and the date and time items were deleted were included. It's not clear why Apple was storing the information for so long, but it appears to have been an oversight related to ensuring information is deleted on all devices once cleared rather than intentional.
Shortly after Forbes and Elcomsoft published their iCloud findings, Elcomsoft noticed previously available records being deleted as part of a server-side fix quietly implemented by Apple. All deleted browser records older than two weeks have been eliminated. From Elcomsoft's blog:
Update: we have informed media about this issue in advance, and they reached Apple for comments. As far as we know, Apple has not responded, but started purging older history records. For what we know, they could be just moving them to other servers, making deleted records inaccessible from the outside; but we never know for sure. Either way, as of right now, for most iCloud accounts we can see history records for the last two weeks only (deleted records for those two weeks are still there though).

Good move, Apple. Still, we would like to get an explanation.
Even before Apple made the server-side fix to make sure deleted browsing history is permanently removed in a timely manner, it was difficult to get ahold of the information. Forensic software like Phone Breaker was required, which doesn't come cheap, and Phone Breaker only works with a user's Apple ID and password, or an authentication token pulled from a user's computer.
In iOS 9.3 and later (and Safari 9.1 and later), Apple also began turning URLs into unreadable hashes instead of plaintext when browser history is deleted, an additional security measure, but Forbes says that didn't stop Elcomsoft's tool from working with the newest versions of Safari.
While Apple now appears to be deleting browsing data at the two week mark (or has made it invisible to tools like Phone Breaker), iCloud users should be aware that their browsing history, including cleared browser history, is stored in iCloud for at least that two week period. Users who are not comfortable with that can easily disable syncing features through the iCloud section of the Settings app. Apple has not commented on Elcomsoft's finding or the apparent server-side fix.