iPhone 8 May Use Apple's In-House Inductive Wireless Charging Rather Than Technology From Energous
Over the course of the last year, there has been ongoing speculation that wireless charging company Energous has inked a deal with Apple and could potentially provide wireless charging technology for the upcoming iPhone 8.
While Energous CEO Steve Rizzone has continually hinted that his company has established an agreement with "one of the largest consumer electronic companies in the world," leading people to believe the partner is Apple, a new investor's note from Copperfield Research outlines why Apple has no plans to use Energous' WattUp radio frequency-based wireless charging solution.
Copperfield Research examined multiple inductive charging patent applications filed by Apple starting in 2013, which now number more than a dozen, suggesting the patents are a clear indication of Apple's desire to pursue its own in-house inductive charging solutions for future products. Inductive charging, widely used today, relies on magnetic coils to provide power rather than radio waves.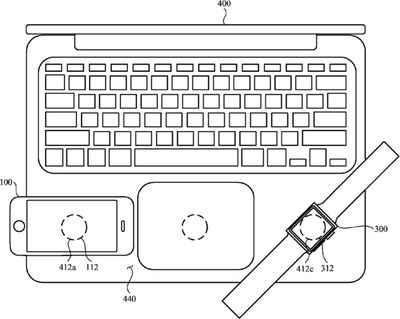 An image from an Apple patent covering inductive charging
The patents by themselves are not a clear indication of Apple's plans, but in
one patent filed in 2011
, Apple makes its feelings on radio frequency-based charging clear, calling it "very inefficient," "not practical," and potentially hazardous. In the interest of full disclosure, however, the patent was filed before any prospective relationship with Energous.
However, this type of radiative transfer is very inefficient because only a tiny portion of the supplied or radiated power, namely, that portion in the direction of, and overlapping with, the receiver is picked up. The vast majority of the power is radiated away in all the other directions and lost in free space. Such inefficient power transfer may be acceptable for data transmission, but is not practical for transferring useful amounts of electrical energy for the purpose of doing work, such as for charging electrical devices. [...]

In addition, such schemes may pose hazards to objects or people that cross or intersect the beam when modest to high amounts of power are being transmitted.
Furthermore, Copperfield Research suggests both rumored design decisions and recent news that Apple has partnered with Lite-On Semiconductor for wireless charging bridge rectifiers are indications of Apple's plan to use inductive charging.
Bridge rectifiers, explains Copperfield Research, are used to convert alternating current (AC) to direct current (DC), a component needed for inductive charging and one that would not be necessary should Apple be relying on an all-in-one module from Energous.
Apple's rumored decision to use a glass body also reportedly points towards inductive charging. A glass body would not be required for RF-based wireless charging technology, but is needed for an inductive charging solution.
Adding further credence to Apple's inductive charging roadmap are the consistent leaks from Asian sources that the next iPhone will feature glass casing. Inductive charging does not penetrate aluminum cases effectively, which is the material for the current iPhone casing. One reason Samsung adopted plastic material for its cases is to improve the performance of wireless charging.

A major misperception among tech blogs and WATT investors is that Apple's switch to a glass casing somehow confirms the inclusion of WATT's charging technology. This is ridiculous. The efficacy of RF wireless charging (WATT's technology) is not affected by aluminum or plastic cases.
Many of Apple's inductive charging patents outline the improvements Apple has made in the field over the course of the last few years and give hints as to how wireless charging could work if Apple is indeed developing an in-house inductive charging solution for the iPhone 8.
Patents point towards multiple objects that could provide power, such as a table top with a charging coil built in, a desktop charging station, or even a desktop or notebook computer, which could be used to provide power to an iPhone or iPad. Devices could even share power between one another, suggesting a fully charged iPad could charge an iPhone, or vice versa.

An image from an Apple patent covering inductive charging
Copperfield Research does believe that Apple had a partnership with Energous that gave the Cupertino-based company a way to research radio frequency-based charging without shelling out cash, but concludes that there is an "overwhelmingly conclusive mosaic" suggesting Apple will use in-house inductive charging for the iPhone 8.
Copperfield Research is made up of an anonymous group of researchers that have shorted Watt's stock and may not be entirely impartial, but the evidence they have presented makes a compelling argument for the use of an in-house inductive charging solution rather than a partnership with Energous.