Razer, known for its gaming laptops and accessories, today unveiled its latest product, the world's first triple display laptop. Project Valerie features a Razer laptop that's equipped with one main display and two fold out side displays, all of which are 4K.
Each display measures in at 17.3 inches, for what Razer says is the most expansive viewing experience in a notebook. Project Valerie is powered by an NVIDIA GeForce 1080 GPU and supports NVIDIA Surround View with a resolution of 11520 x 2160 for an immersive gaming experience.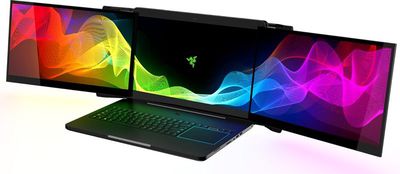 While the three displays can be used as a single display, they can also be used individually to run multiple applications at the same time. An automated deployment system that uses durable aluminum hinges lets the laptop be set up in a matter of seconds, with perfect display alignment.
According to Razer, though its equipped with three displays, Project Valerie has a form factor that's comparable to other 17-inch gaming laptops on the market, fitting neatly into a laptop bag so it can be taken anywhere. It's about 1.5 inches thick and weighs approximately 12 pounds.
Project Valerie is still a prototype machine and it is not clear if it will eventually see a release. No launch date information or pricing details are available, but interested customers can sign up to learn more about it on Razer's website.