Ford and Toyota have formed a four-automaker consortium to speed up the deployment of open source software for connected in-car systems, according to a report by Bloomberg on Wednesday.
The SmartDeviceLink Consortium, which includes Mazda, PSA Group, Fuji, and Suzuki, aims to prevent Apple and Google from controlling how drivers connect smartphones to their vehicles. Suppliers Elektrobit, Harma, Luxoft, QNX, and Xevo have also joined the organization, which is named after an open source version of Ford's AppLink connectivity interface, a system used in over 5 million vehicles globally.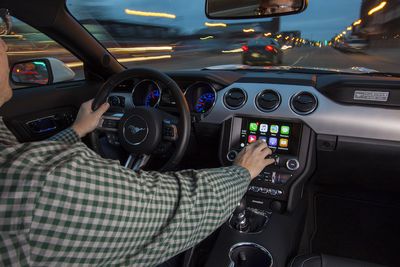 The non-profit group's goal is to promote more choice in how drivers connect to in-car technologies like dashboard displays, steering wheel controls and voice recognition systems. By using an open source platform, the automakers hope to set a standard by which they and their suppliers can integrate smartphones with vehicles, and thereby attract developers who can then integrate the universal linking technology into their software.
Toyota has so far resisted including Apple's CarPlay and Google's Android Auto in its vehicles, arguing that doing so would diminish safety and security standards. Ford offers them on all its 2017 model vehicles, but remains supportive of an open-source software platform that all app developers can use as an alternative to Carplay and Android Auto.
The open source project will be managed by Livio, a software startup Ford acquired in 2013. Livio will work with early adopters to build the interfaces and infotainment systems for each vehicle environment.
Apple's own system, CarPlay, brings Maps, Phone, Messages, Music, Podcasts, and a number of third-party apps, such as Spotify, to a vehicle's dashboard. Apple announced CarPlay with several big-name partners already on board, like BMW, Ford, GM, Honda, Hyundai, Kia, Nissan, and more.
Due to Apple's commitment to user privacy, CarPlay collects very little data from users and car manufacturers. According to information released by Porsche, Apple only collects information on whether a car is accelerating while CarPlay is in use. This is in stark contrast to Android Auto, which collects a lot more car data when in use.