LG Debuts 'Hub Robot' to Compete With Google Home and Amazon Echo
At the Consumer Electronics Show in Las Vegas, Nevada, LG today unveiled the Hub Robot, an adorable Amazon Echo and Google Home competitor. The Hub Robot, which LG has created with a "friendly, anthropomorphic design," interfaces with smart home products and interacts with people in multiple ways.
Powered by Amazon's Alexa voice recognition technology, the Hub Robot can respond to commands to do things like turn on the air conditioner or the lights. It features an interactive display that can offer up information and images, and with a built-in speaker, it can play music, set alarms, provide weather updates, and more.
The Hub Robot is more interactive than competing products from Amazon and Google, with the ability to move, swivel in place, and express a range of emotions by displaying a face on its built-in screen.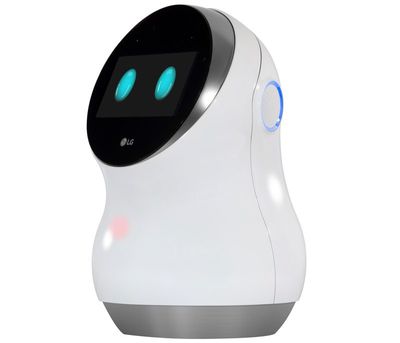 It is able to respond to customers using body language, such as nodding its head when it is asked a question, and it keeps track of in-home activity, monitoring when family members come and go. With facial recognition capabilities, it recognizes each member of a family and provides customized greetings and information.
LG says the Hub Robot is designed to be put in a place where the family gathers, such as a kitchen or a living room, and additional mini robots will be introduced alongside the Hub Robot that can go in other rooms of the house.
LG has not announced a ship date for the Hub Robot, nor is pricing available, but it will likely be competitive with the Amazon Echo and the Google Home, which are priced at $180 and $129, respectively.
As in-home hub solutions grow in popularity, rumors suggest Apple is working on its own connected smart home device that's similar to the Amazon Echo. It's said to be powered by Siri and equipped with a speaker and a microphone. The hub will work with HomeKit, and there's a possibility it could be combined with another product, such as the AirPort or Apple TV.
The hub has supposedly been in development for two years and is in the prototype testing phase, but it's not clear if and when it will see an official release.