Apple Maps Expands Transit Directions Across Great Britain
Apple Maps has been updated with comprehensive transit data for Great Britain, beyond the London area already supported.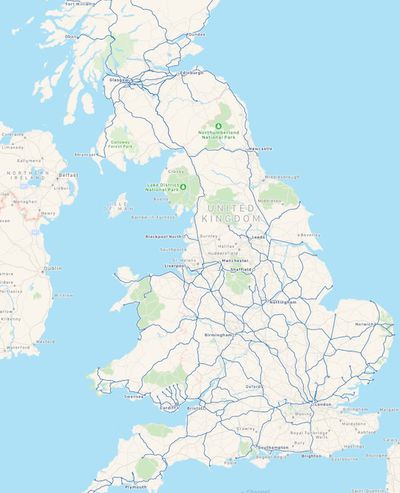 Transit directions by bus, train, or tram are now available within and between large metropolitan areas such as Birmingham, Manchester, Liverpool, Newcastle, Sheffield, Glasgow, Edinburgh, Leeds, Bradford, Bristol, Portsmouth, Nottingham, and Cardiff, as well as other regions in England, Scotland, and Wales.


Transit coverage extends to a number of mid-size cities, small towns, and rural areas as well. Directions are available between Bath and Brighton, for example, and most other searches between any two areas in England, Scotland, and Wales yielded at least one available route in Transit mode.


Apple Maps now supports the National Rail network in many areas of Great Britain, including the CrossCountry, TransPennine Express, Great Western Railway, Grand Central, Northern Rail, East Midlands Trains, Virgin Trains, Virgin Trains East Coast, Arriva Trains Wales, Hull Trains, and other train services.
While transit coverage is now comprehensive throughout much of Great Britain, directions remain unavailable in Belfast and elsewhere in Northern Ireland, which lies within the United Kingdom. Transit directions are likewise unavailable in the neighboring Republic of Ireland.