For this week's giveaway, we've teamed up with iSkelter to offer MacRumors readers a chance to win one of iSkelter's Slate 2.0 Lap Desks or Magic Trackpad 2 Stations. For those unfamiliar with iSkelter, the company makes a range of handmade high-quality wooden lap desks and desk accessories.
The Slate 2.0, designed for Apple's line of MacBooks, is a lap desk with a built in MacBook holder and a cutout to hold an iPhone, iPad, or another small accessory. It's been designed as an ideal mobile workspace for use on a couch, in bed, or anywhere else where there's no standard desk available.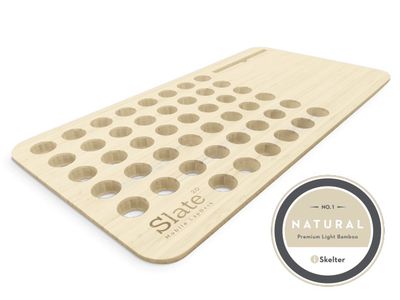 Made from either light bamboo or a darker walnut bamboo, the Slate 2.0 is priced starting at $70 and can be customized with additional desk space, a white board, or a built-in mousepad. Holes are cut into the bottom of the Slate 2.0 for ventilation and to keep it light and easy to carry. The Slate 2.0 fits all of Apple's notebooks, from the 11-inch MacBook Air to the 15-inch MacBook Pro.


One of iSkelter's other new products is the Magic Trackpad 2 Station, which is a lap accessory that holds a Magic Keyboard and a Magic Trackpad so you can use them in your lap with an iMac or a MacBook.


The Magic Trackpad 2 Station, priced starting at $60, has precise cutouts specifically designed for Apple's Keyboard and Trackpad. A felt lining keeps your accessories from getting scratched, and since it's made from bamboo, it's lightweight and easy to store.


iSkelter has a wide range of other products, from lap desks to Apple Watch charging stations to full-on desks, but we're giving
six MacRumors readers a chance to win their choice of a Slate 2.0 LapDesk with Mousepad or a Station for Trackpad 2.
To enter to win, use the Rafflecopter widget below and enter an email address. Email addresses will be used solely for contact purposes to reach the winner and send the prize. You can earn additional entries by subscribing to our weekly newsletter, subscribing to our YouTube channel, following us on Twitter, or visiting the MacRumors Facebook page.
Due to the complexities of international laws regarding giveaways, only U.S. residents who are 18 years of age or older are eligible to enter. To offer feedback or get more information on the giveaway restrictions, please refer to our Site Feedback section, as that is where discussion of the rules will be redirected.