Apple to Charge $69 to Replace a Lost or Broken AirPod
On its iPhone Service Pricing page, Apple recently updated its repair and replacement costs for AirPods, which went on sale earlier this week.
Apple doesn't appear to be offering AppleCare+ for AirPods, instead providing a standard one-year warranty that's available on all Apple products. If the AirPods need service during that one year period, all work will be covered for free.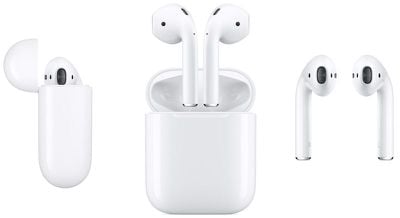 After the one-year warranty has expired, Apple will charge a $69 fee for out-of-warranty service repairs. Battery service for AirPods that lose battery capacity is free during the one-year warranty period or $49 out of warranty.
If you lose or damage one of the AirPods or the charging case, Apple will charge $69 for a replacement, regardless of whether or not the AirPods are still under warranty. The pricing in Apple's support document is U.S. pricing, and will vary based on country.


AirPods first went on sale Tuesday morning with shipment dates as early as December 21, but supplies were quickly exhausted. Within an hour, delivery estimates slipped to December 29, and shortly after that, fell again to four weeks.
AirPods orders placed today in the United States will not ship out for six weeks, arriving to customers towards the end of January. Apple is expected to start offering AirPods in stores starting next week, so customers who did not get a chance to pre-order may still be able to get a set of AirPods.
Apple has said stores will be receiving "regular AirPods shipments," but supplies are likely to be tight as demand is high.
Priced at $159, AirPods are wire-free Bluetooth-equipped headphones that are able to provide up to five hours of music playback. AirPods use a new Apple-designed W1 chip to quickly switch between devices, and include features like touch-based controls and Siri. AirPods charge via an included charging case and a Lightning cable.