Apple Pulls watchOS 3.1.1 Update After Bricking Complaints
Following complaints that the new watchOS 3.1.1 update is bricking some Series 2 Apple Watch models, Apple has temporarily pulled the update.
watchOS 3.1.1 is no longer available for download from the Watch app on the iPhone, with watchOS 3.1 listed as the most recent update for those who had not already downloaded and installed 3.1.1.
After installing watchOS 3.1.1, some Apple Watch Series 2 owners had their devices bricked. Affected Apple Watches are displaying a red exclamation mark on the screen that instructs them to visit www.apple.com/help/watch.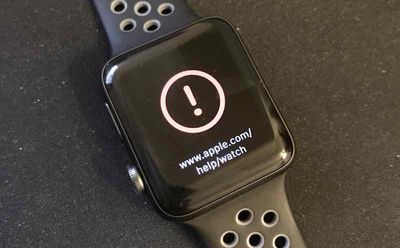 The site directs Apple Watch owners to perform a force restart of the Apple Watch by holding down the side button and the Digital Crown, and says that if a restart does not work to restore the device, it will need to be taken in for service.
Resetting the Apple Watch has not worked for customers who have had their watches bricked by watchOS 3.1.1, and replacement Apple Watches will be required. Apple retail locations cannot service Apple Watches in store, because access to the diagnostic port (something not done in-store) is required.
Most users who are affected by the problem own an Apple Watch Series 2, and it is not yet clear why the update failed on some devices and not on others. watchOS 3.1.1 will likely be made available again once the bug is cleared up. Customers with an Apple Watch bricked by watchOS 3.1.1 should visit an Apple retail store or contact Apple support.
(Thanks, Manolo!)