European Union Moves Forward With Plans to Eliminate Roaming Charges Next Year
European Commission members met on Wednesday to discuss draft rules intended to eliminate roaming charges in the European Union as of June 15, 2017.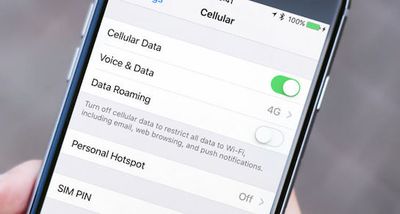 The Commission said it is determined to put an end to roaming charges commonly billed by carriers when a customer calls, sends messages, or uses data on their mobile device while abroad in the European Union, outside of their primary country of residence, subject to proportionate checks for abusive usage.
European regulators have proposed a "Roam like at Home" solution that would allow travelers to call, text, and browse the web on their mobile devices when abroad in the European Union for no extra charge than the price they pay at home. It is not intended to be used for permanent roaming.
"Roam like at Home" is aimed at people who travel in the European Union for work or leisure. "They spend more time at home than they do abroad, and they make most of their calls, texts and use data in their home country," the Commission explained.
Example: with his €70 per month contract, Tim living in Netherlands gets unlimited calls, texts and data for his smartphone. When he travels abroad on holidays, he will have unlimited calls and text. For data, he will get twice the equivalent of €70 worth of data at the wholesale roaming data price cap, i.e. 0.85 cent/MB according to the Commission wholesale proposal, meaning more than 16 GB in this case. While roaming, he will get twice the volume he has paid for.
The latest draft further clarifies consumer rights, such as ensuring that customers abusing a carrier's roaming policy are not subject to over-intrusive background checks and establishing a minimum alert period of 14 days before roaming charges can be imposed on customers who exceed fair usage.
The revised rules also introduce safeguards to ensure carriers remain competitive. Customers can be asked to prove they live or have "stable links" to a specific country before "Roam like at Home" is included in their contract, while those roaming excessively can be sent a warning message and/or small roaming charge.
If, over a 4-month period, billing data suggests that a consumer has been more abroad than at home, but also consumed more data while travelling in the European Union, the operator can send a warning message. This message will warn the consumers that they have two weeks to inform their operator about their travel situation, or to change their travel or use patterns. Only a very small roaming charge […] can then be applied.
The proposed surcharges for customers who exceed fair usage are €0.04/minute per call, €0.01 per SMS, and €0.0085 per MB of data usage.
The draft legislation has now been sent to representatives for each European Union member state, who will meet on December 12 to vote on the text. Afterwards, the European Commission will be able to adopt the rules.
EU member states include Austria, Belgium, Bulgaria, Croatia, Cyprus, Czech Republic, Denmark, Estonia, Finland, France, Germany, Greece, Hungary, Ireland, Italy, Latvia, Lithuania, Luxembourg, Malta, the Netherlands, Poland, Portugal, Romania, Slovakia, Slovenia, Spain, Sweden, and the United Kingdom.
In September, the Commission said the European government agreed to its proposal to end roaming charges in Europe. This week, the Commission said it will be steadfast to ensure an agreement is reached as soon as possible.