Apple Adds Support for Four New Single Sign-On Providers Ahead of iOS 10.2 and tvOS 10.1 Release
Apple is continuing to add new providers to its Single Sign-on feature in tvOS 10.1 and iOS 10.2, and today introduced Single Sign-on support for four new providers: CenturyLink Prism, Hawaiian Telcom, MetroCast, and GTA (available in Guam). GVTC Communications, previously listed as a Single Sign-on option, has been removed.
With the new additions, when tvOS 10.1 and iOS 10.2 become available for the public, Single Sign-on will be available for eight cable subscription options: DirecTV, Dish, Hotwire, Sling TV, CenturyLink Prism, Hawaiian Telcom, MetroCast, and GTA. Apple will continue adding support for additional providers as it manages to secure the necessary deals.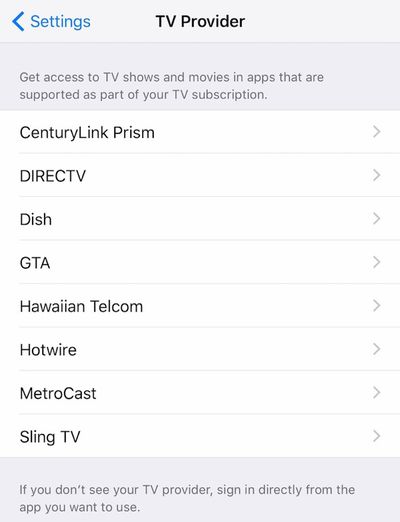 Single Sign-on allows Apple TV and iOS users to enter their cable credentials once and then sign in to all available live cable content, even across multiple apps. Single Sign-on works automatically when you have a cable subscription through a participating provider, prompting you allow a compatible app to use your sign in credentials.
Many cable channels offer individual apps on the Apple TV and iOS devices, but still require cable authentication to access content. Without Single Sign-on, users need to enter their cable information for each app, a process that's a huge hassle.
Apps that take advantage of Single Sign-on and user cable subscriptions will be easier to find and track in tvOS 10.1 and iOS 10.2, with content located in the new "TV" app that's been introduced.
We expect to see tvOS 10.1 and iOS 10.2 introduced to the public next week alongside macOS Sierra 10.12.2 and watchOS 3.1.1.