Popular automation app Workflow is being updated today with a new design, a much-improved Gallery experience, and a streamlined on-boarding process, all of which help to make the app more powerful and easier to use.
For those unfamiliar with Workflow, it's an automation app that can essentially do anything. It lets you create workflows to accomplish a wide variety of tasks like creating GIFs from a series of photos, grabbing images from a web page, translating an article, calculating a tip, posting photos to multiple social networks at once, and much, much more.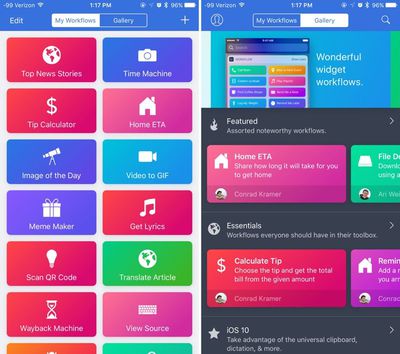 When you first open the Workflow app after updating, there's a new on-boarding process that walks you through how the app works and all of the different things you can do with it. After a short tutorial, you're asked to choose a few workflows that sound useful, like a teeth brushing timer or directions to the nearest coffee shop. The new on-boarding process makes it easier for new users to get started because the app no longer opens to a blank slate.
Workflow's Gallery, which is what's used to download new workflows, has been overhauled to make it simpler to find new ways to use the Workflow app. The Gallery is organized into several different curated sections that you can scroll through, like Essentials, iOS 10, Quick Shortcuts, Morning Routine, Around the House, Stay Healthy, Collaborate Better, Photography, and more.
Category names are more descriptive than they were previously, and there's more content right at your fingertips. With a new search function, it's easy to find exactly what you're looking for, and there's also an option to submit your own Workflows to the Gallery so other users can download them.
When adding workflows, there's now an Import Questions option that simplifies customization, and some existing workflows have been updated to add more context for an improved experience. You'll also notice that Workflow has seen some slight design changes, brightening up the look of the app.
Workflow can be downloaded from the App Store for $2.99. [Direct Link]