Microsoft Surface Studio Reviews: Apple Fans Might Be 'Tempted to Switch Camps', Despite High Price
A few weeks after Microsoft unveiled the Surface Studio to the public at a media event in New York City, a few websites have begun publishing the first reviews for Microsoft's new desktop PC/tablet hybrid. During its announcement in October, the Surface Studio was revealed to have a 12.5mm thin touch screen, with a 28-inch PixelSense Display that packs in 13.5 million pixels. Microsoft said that there's "no monitor like this on the planet."
The first reviews of the Surface Studio are largely positive, with many reviewers enamored with the computer's large screen and slick design, as well as its purpose to fulfill and enhance productivity for creatives. However, in line with the unrest over the price of the new MacBook Pros, most of the people who have been reviewing the Surface Studio for the past week admit the $3,000 price tag is one that prohibits casual users and sets an entry bar for serious power users only.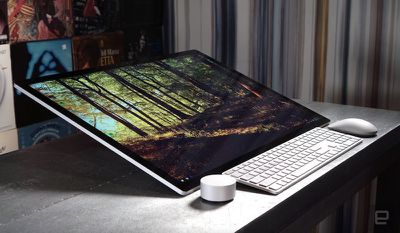 Images via Engadget
The Verge
began by looking at the 28-inch display, which was described as "truly one of the best desktop monitors I've ever used." Everything from plain text to videos were said to look great on the screen, and even the 3:2 aspect ratio for the desktop monitor produced better environments for reading and writing, according to the site.
The Verge also had a freelance illustrator test out the Surface Studio, and they came away largely impressed, but hoped future iterations introduced a rotating display, more ergonomic stylus, and new input options for the Surface Dial accessory. Although a slight mention, one of the site's minor annoyances was the way the Surface Dial slipped down the screen slowly when not being cradled by the user's hand, even at the computer's lowest 20-degree angle.


The Verge
concluded its review comparing the Surface Studio to the current lineup and ecosystem of Apple products. The site said that while Microsoft's device won't be invading the homes of die-hard Apple fans just yet, the fact that the Surface Studio even hints at that possibility "is remarkable." For that reason, the site admitted purchasing a $3,000 computer just for fun doodling tools in your spare time is illogical, but those Apple fans who could gain the most out of Microsoft's hardware "might well be tempted to switch camps."
Many creatives I've spoken to about the Surface Studio have said the same thing: why isn't Apple doing this? Apple seems to be forcing creatives to choose an iPad Pro for touch and pen, but the powerful and professional apps just aren't there yet on iOS, and it's not clear if companies like Adobe are willing to rewrite their software to be just as useful on an iPad Pro. Microsoft has realized the potential in the market to reach out to creatives who feel abandoned by Apple, and it's an influential crowd that could be swayed over by devices like the Surface Studio.

The fact that Microsoft is even being considered an alternative to Apple's line of machines for creatives is not something anyone, not even Microsoft, was expecting for the Surface devices. The Surface Studio won't take over Mac-focused design houses just yet, but that it's even a possibility is remarkable. The Studio is special because it knows exactly what it is and who it's for — and it's largely spot on. If Microsoft keeps developing its strengths here, some of Apple's most loyal customers might well be tempted to switch camps.

Engadget called the Surface Studio "the most interesting computer released this year," thanks in part to the fact that its zero gravity hinge gimmick "is actually useful." The site tested the top-of-the-line $4,200 tier, which includes a 2.7GHz Core i7 6820HQ CPU, 32GB of RAM, a 128GB SSD and 2TB HDD, and a NVIDIA GTX 980M graphics with 4GB of VRAM, and admitted "it was one of the most powerful PCs I've ever tested."


The Surface Studio is also a good-enough gaming alternative, although it isn't entirely up to the task of most high-end gaming PCs, with Engadget noting that the computer scored 20 percent lower than the Radeon RX 480 GPU, as an anecdotal comparison. The computer still managed to run a few games at playable speeds, including Overwatch (60 frames per second in 1080p with high settings) and Gears of War 4 (50 frames per second with medium settings).

The Surface Studio is both familiar and new. It empowers us to work the way we always have, while also giving us entirely new modes of productivity. Personally, that's a philosophy I can get behind -- especially when compared with Apple's habit of pushing consumers down new roads that aren't necessarily improvements (hello, dongle life). But the Surface Studio's high price and lack of expandability could make it a tough sell for an already niche market, especially for people already devoted to their Wacom tablets.
CNET also asked some creative professionals to try out the Surface Studio and got their opinions on the machine. Creative director Nick Cogan, who's helped to illustrate and design films like Ice Age and Rio, said that the Surface Studio was a "great" drawing tool that could stimulate workflow and ultimately be a nice main device for professional work after the initial learning curve. But, like CNET described in its review, Cogan wasn't sure if the hardware of the Surface Studio was enough of an excuse to get over the Windows-based software.

The bigger challenge may be getting creative professionals to invest in such a high-end, high-price piece of gear, as many of them are creatures of habit, tied to familiar tools and hardware. As Cogan told us, "I think the big barrier is going to be that it's Windows-based, and so many people in the creative fields are really already decades down using Macs." But, he adds, "As a drawing tool, this is great, it's a lot of fun."
If you can afford it, and your profession aligns with Microsoft's intent to catalyze passion and ingenuity within creatives, the review consensus on the Surface Studio is largely suggesting a purchase. Those who are interested can order the computer from Microsoft's online store, although following initial pre-orders the Surface Studio's shipping estimate has now been pushed back to early 2017.
The cheapest model of Surface Studio includes an Intel Core i5 processor, 1TB hybrid drive, 8GB RAM, and a 2GB GPU for $2,999. That jumps up to $3,499 for an Intel Core i7 processor and 16GB RAM, with the top-of-the-line model running for $4,199 with a 2TB hybrid drive, i7 processor, 32GB RAM, and 4GB GPU. The Surface Dial comes packaged-in for pre-order customers who order the computer before December 1, but after that date it will cost $99 sold separately.