Macy's today opened a new hub dedicated to Apple products at its flagship Herald Square store in Manhattan, becoming the first U.S. department store with a shopping area devoted to the brand, reports The Associated Press.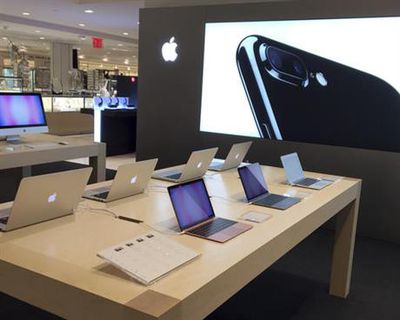 The store-within-a-store concept, similar to those found in Best Buy and Walmart stores, has four light wood tables featuring a wide range of Apple products, including the Apple Watch, iPhones, iPads, iMacs, and MacBooks.
"This is one of the most sought-after products," Terry Lundgren, the outgoing CEO of Macy's, told The Associated Press. "We really cater to women better than most retail stores do. I do think that we are going to end up creating a business that is more female-friendly.
Macy's new Apple partnership, in the works for years, comes as the department store chain aims to reverse six straight quarters of declines for a key sales measure. Macy's is collaborating with other brands to create a so-called mini-mall.
The dedicated Apple section, located near the main 34th Street entrance, will be densely staffed to accommodate the 35,000 to 40,000 customers, and up to 75,000 during the holidays, that visit Macy's Herald Square location each week.