Apple's Tim Cook and Eddy Cue Named to Vanity Fair's 2016 New Establishment List
Apple CEO Tim Cook is ranked 11th on Vanity Fair's 2016 New Establishment List, its annual ranking of the top 100 so-called Silicon Valley hotshots, Hollywood moguls, Wall Street titans, and cultural icons. Cook's profile was rather nondescript about him personally, instead focusing on Apple's recent battle with the FBI over its refusal to unlock an iPhone belonging to a San Bernardino shooter.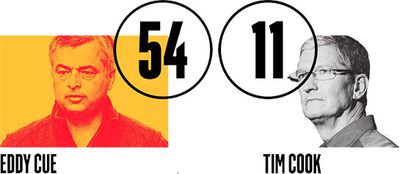 Apple senior vice president Eddy Cue, who oversees Apple Music, iCloud, the iTunes Store, and other services, was also named to the list at 54th. Cue is mentioned as being an "increasingly important part of Apple's future."
Cue, whose domain includes content, Internet software, and services, is widely believed to be an increasingly important part of Apple's future—pushing the company into music-themed programming and other forms of content. Apple recently acquired a television series based on "Carpool Karaoke," the popular brainchild of James Corden (No. 80).
Other notable company-related figures that made the cut include Disney CEO and Apple board member Bob Iger, 4th, former Apple investor Carl Icahn, 42nd, and Steve Jobs' widow Laurene Powell Jobs, 73rd.

CROWNING ACHIEVEMENT
One of the world's richest women (net worth: approximately $17 billion), Steve Jobs's widow is pouring her wealth into Emerson Collective, a philanthropic organization that, like Priscilla Chan's (No. 60), is structured as a limited-liability corporation.

DISPLAY OF VULCAN CHESS MASTERY
Powell objected to the Aaron Sorkin–written Steve Jobs movie (and to the Walter Isaacson book on which it was based), but she needn't have bothered: the film flopped with moviegoers.
Amazon CEO Jeff Bezos topped the list, helping the online retailer turn five consecutive profitable quarters, followed by Facebook CEO Mark Zuckerberg, Snapchat CEO Evan Spiegel, Iger, Tesla CEO Elon Musk, Netflix CEO Reed Hastings, Uber CEO Travis Kalanick, News Corp. CEO Rupert Murdoch, Didi Chuxing's Jean Liu and Cheng Wei, and Beyoncé. The Kardashians rounded off the list at 100th.