Apple's First iOS Developer Academy Opens October 6 at University of Naples
Apple's first iOS Developer Academy is set to open this week at the University of Naples Federico II's new San Giovanni a Teduccio campus, located in a coastal suburb east of Naples, Italy.
The campus will see Apple teaching 200 Italian students how to write code to create apps that will run on Apple's iOS devices during the nine month course. Students will be provided with a current-generation MacBook, iPhone, and iPad, along with tuition, all for free.
More than 4,000 students applied for 200 spots during an open enrollment program. Next year, more spots will be available, as the university plans to accept 400 students.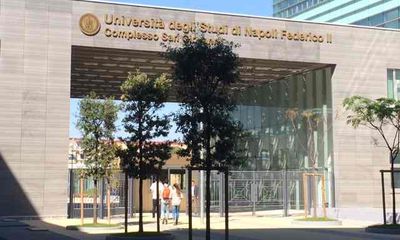 Leopoldo Angrisani, a professor who has helped get the program up and running, spoke with The Guardian and shared some details on the campus ahead of its opening on October 6. Apple had a hand in the design of the academy, which is housed in one of three modern-looking buildings with glass facades.
The layout of the large, open-plan classroom was designed by Apple. "The didactic model is very new [for us]," Angrisani said. Small groups of students will sit at round tables equipped with special acoustic systems so the teacher can communicate with each table individually about their work. All courses will be taught in English, since it is meant to be open to students from around the world.

"Competition will be a fundamental part of the class," Angrisani said.
Couches and a lounge area are included in the classroom, giving students a chance to rest, and Apple expects collaboration between students will be a key part of the classroom experience. "Apple thinks that all of these activities, learning and rest and so on, have to stay very close to each other, because this is the best way to ensure that the concepts are absorbed and understood very well," Angrisani told The Guardian.
During its visit to the campus, The Guardian was shown the classroom where classes will be held, but was not allowed to sit in on a meeting where an Apple official was instructing academy teachers. University officials also said Apple had been "very, very" involved in the work at the academy, down to details like the lighting in the classroom and the color on the walls.
In the past, Apple has said the iOS Developer Academy will be expanded to other countries around the world in the future.