Sticker App 'Phoneys' Nixed by Apple for Mimicking Messages Chat Bubble Design
Over the past week, a sticker pack that mimics the design of the iconic bubbles in the Messages app has rocketed to the top of the Messages App Store charts, but its popularity will be short-lived as Apple is going to pull it from the App Store.
Phoneys, currently the number two paid app in the Messages App Store in the United States, features chat bubble stickers that you can place over real messages, making it look like friends and family have said humorous things they didn't actually say. Examples include "You're my hero," "The sports team I pull for sucks," and "My political views are totally wrong."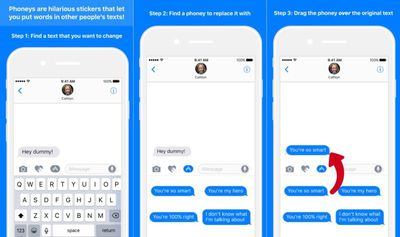 Given the popularity of Phoneys, it has, unsurprisingly, attracted Apple's attention, and the Cupertino company has taken issue with the app. In a phone call, an Apple employee told Phoneys developer Adam Howell that his sticker pack can't use the San Francisco font and it can't emulate the look of Messages chat bubbles. Furthermore, Apple said "prank" apps are not allowed in the App Store.
Apple's lawyers weren't happy that Phoneys got through the review process. The stickers couldn't be blue or green, they couldn't use San Francisco as the typeface, and the app could no longer be marketed as a "prank" app, because Apple doesn't approve prank apps (even though I myself had never used the word "prank" when marketing Phoneys, others did, and I certainly understood where he was coming from).
Apple is not pulling the app from the App Store immediately, but has given Howell a week to change the look of the app so that the text bubbles no longer resemble Messages chat bubbles. He's been asked to change them to "comic book cartoon bubbles," and if that doesn't happen, Phoneys will be removed by Apple.
Howell has not yet decided whether he'll leave the app as is for the people who already purchased it or if he'll update it with a new look as instructed by Apple so that he can continue providing updates and new content going forward.
Phoneys continues to be available from the App Store in its current incarnation for $0.99 [Direct Link], but potential buyers should know that it's either never going to see another update or it'll be updated to look significantly different.