Intel's Mobile Processor Roadmap May Force Graphics Changes for Apple's 15-Inch MacBook Pro in 2017
While many Mac notebook users have been long awaiting refreshes for the MacBook Pro and MacBook Air lineups based on Intel's 6th-generation Core "Skylake" processors, a recently leaked April roadmap for Intel's processors beyond Skylake posted to the AnandTech forums raises questions about future updates for the 15-inch MacBook Pro in particular.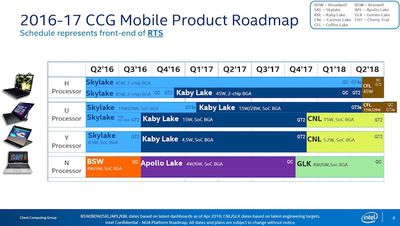 The update bottleneck for future Mac notebooks is primarily related to the performance of Intel's integrated graphics, and it appears that an emphasis on processing cores over graphics by Intel may force Apple to make some changes to its graphics strategy down the road.

The MacBook Air and 13-inch MacBook Pro run exclusively on integrated graphics bundled with Intel's chips, while since late 2013 the 15-inch MacBook Pro has come in two versions, a lower-end configuration with only integrated graphics and a higher-end configuration that adds a dedicated graphics chip for higher performance. 15-inch MacBook Pro models equipped with both types of graphics can automatically switch between the two depending on whether better performance or better battery life is required.
Given the importance of integrated graphics for Apple's notebooks, Apple has typically used chips including Intel's "GT3" or "GT3e" tier for graphics performance, with the "e" suffix on GT3e denoting embedded DRAM on the chip for improved performance compared to the GT3 tier. These tiers are powerful enough to provide reasonably strong graphics performance for a notebook.
Looking at Intel's roadmap for chips beyond Skylake, the 15-inch MacBook Pro runs into a problem as Intel appears to have no plans for any quad-core chips with integrated graphics higher than the "GT2" tier, which typically has about half the raw power of the GT3 tier, to be launched in the next-generation "Kaby Lake" processor family.
As a result, the currently available Skylake "H-series" chips appropriate for the 15-inch MacBook Pro that we're expecting to see in an update as soon as next month may remain Intel's lead offerings for these types of high-performance mobile chips until the introduction of new "Coffee Lake" chips in the second quarter of 2018. Even then, initial Coffee Lake chips will include only GT2-level graphics that may not be powerful enough for Apple's needs.


The situation is a bit better for the 13-inch MacBook Pro and the MacBook Air, which use 28-watt and 15-watt versions of the "U-series" processors respectively. The leaked roadmap indicates that Kaby Lake versions of these chips with GT3e graphics are scheduled to launch in the first quarter of 2017, making them available for updated notebooks perhaps in the middle of next year following Skylake updates within the next month or two.
Rounding out the Mac notebook lineup is the MacBook, which was updated in April with Skylake processors. Kaby Lake versions of those "Y-series" chips have already been launched, so they are ready to be used in next-generation MacBooks whenever Apple decides to release them. Those Kaby Lake Y-series chips will be part of Intel's lineup until late 2017 when new Cannon Lake chips based on a smaller 10 nm process are scheduled to debut.
So what exactly is this Coffee Lake family coming in early 2018? As outlined by The Motley Fool, it appears to be based on the Cannon Lake architecture that has been under development for some time, but manufactured on the current 14 nm process rather than the next-generation 10 nm process of Cannon Lake.
What Intel seems to be doing here with respect to Cannon Lake and Coffee Lake (aka 14-nanometer Cannon Lake) appears to be the result of good planning and an honest internal assessment of the health of the company's upcoming 10-nanometer manufacturing technology.

As I have written before, I believe that the reason that Intel is keeping its high performance notebook and desktop processors on its 14-nanometer technology is cost. By late 2017/early 2018 (when Coffee Lake is expected to launch), Intel's 14-nanometer technology should be quite mature, while the company's 10-nanometer technology will have barely just begun production.
As a result, Coffee Lake would be Intel's fourth processor family to come from its 14 nm process, following Broadwell, Skylake, and Kaby Lake.
It's not entirely clear how Apple will deal with the apparent high-end integrated graphics stagnation at Intel when it comes to future MacBook Pro updates, but there are a few possibilities including a return to dedicated graphics chips across the 15-inch MacBook Pro lineup or perhaps significant enough improvements in Intel's GT2 tier to make it a viable primary option for low-end configurations. It's possible Intel will also be able to release some additional "refresh" Skylake chips with faster CPU speeds to extend the lifecycle of that family, but there's only so much that can be squeezed out of the current design.
With the MacBook Pro set to receive a redesign at its next update as soon as next month, Apple could also be planning larger changes to the machine's internals than the largely drop-in chip upgrades we've seen in recent years, a shakeup that could make predicting Apple's plans from Intel's roadmaps a bit more difficult.