Teardown Confirms Digital-to-Analog Converter in Lightning EarPods and 3.5mm Adapter
Vietnamese website Tinhte has shared a teardown of Apple's new Lightning EarPods and Lightning-to-3.5mm headphone jack adapter included in the box with iPhone 7 and iPhone 7 Plus. The video confirms that, as expected, each accessory is equipped with a small digital-to-analog converter.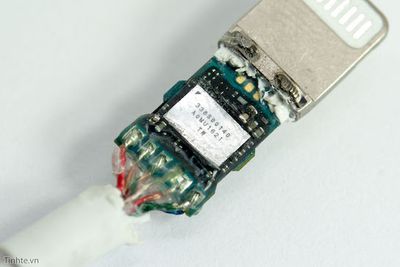 The chip in the adapter, labeled 338S00140 / A0MU1621 / TW, does not have branding for any particular manufacturer, but Apple typically sources its audio-related chips from Cirrus Logic, which produces digital-to-analog converters. The chip in the EarPods is nearly identical, with a label of 338S00140 / A0QK1623 / TW.
The inclusion of a digital-to-analog converter, or DAC for short, enables both the new EarPods and traditional analog headphones with 3.5mm jacks to function over the Lightning connector, which delivers digital audio. The tiny chip is protected by a metal shield and two layers of plastic.
Apple controversially removed the 3.5mm headphone jack on iPhone 7 and iPhone 7 Plus, forcing customers to use a growing selection of
Lightning-equipped headphones
like Apple's own EarPods, wireless Bluetooth headphones, or traditional headphones connected via the Lightning-to-3.5mm adapter.