iOS 10 Messages Apps and Games Worth Checking Out
With iOS 10 now available to the public, there are hundreds of new Messages apps available in the dedicated Messages App Store. For the first time, we're getting a look at just what apps in Messages are going to be capable of, and it's more than a just a gimmick.
There are apps for all doing all kinds of things, from expressing yourself with GIFs and stickers, to sending song lyrics, sharing movie information, maps locations, weather reports, and more, plus there are even more in-depth tools for figuring out what restaurant to eat at, sending money to friends, and other conveniences that are sure to save you a lot of time.
In the list below, we've gathered up a handful of some of the most useful apps in the Messages App Store, so if you're looking to see what Messages apps can do, this is a good starting point.

Installing a Messages App
To install an app from the Messages App Store, tap on the "App Store" icon when in a conversation. From there, tap on the icon of four dots to open the app drawer, then choose the "+" button to access the store itself. The Messages App Store is similar to the iOS App Store, so choose an app and then tap on the price or "Get" to download it.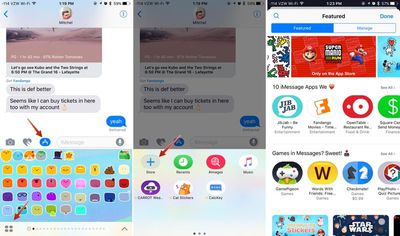 Messages apps are usually installed automatically, but can be accessed in the App Store by tapping on "Manage" and toggling apps on and off.

Notable Apps and Games

- GIF Keyboard (Free) - GIF Keyboard from Tenor is available as a Messages app, making it easier to insert GIFs directly into chat conversations. It features a create-a-GIF- option, trending GIFs, GIF categories for access to quick reaction GIFs, and a search tool.

- ETA ($2.99) - With ETA, you can share the arrival time before you reach your destination directly in the Messages app, so if you're on your way somewhere, the person waiting for you will know when you're going to arrive. You can share from your saved location or search from any nearby destination.
- Carrot Weather ($3.99) - Carrot Weather lets you check the weather within the Messages app and share weather forecasts with friends. It features the same humorous weather updates available in the main Carrot Weather app.
- Fandango (Free) - Fandango's app lets you send movie suggestions and times to friends with just a tap, and once you agree on what to see, you can purchase movie tickets to the local theater without leaving Messages.
- Drafts ($4.99) - Drafts, an app for quickly taking down notes and sending them almost anywhere, now has an iMessage extension that lets you insert text snippets from Drafts into Messages. It's a quick way to share notes or other information with friends and family.
- iTranslate (Free) - iTranslate is a useful app that will let you translate text in Messages just before sending it. More than 90 languages are available, and it features a Direct Voice Translation feature. When the person you're communicating with has iTranslate installed, there's an option for easy two-way real-time communication in two different languages.
- Music Memos (Free) - Apple's Music Memos app, which is meant to be used for recording and saving quick song and melody ideas, now works in the Messages app. You can share your song ideas in Messages using the new Music Memos for iMessage app, giving you a quick way to send what you're working on to friends and family.
- OpenTable (Free) - Reservation app OpenTable's Messages app aims to answer the question "Where should we eat?" It offers the ability to suggest restaurants to friends and family, vote on options, and then make a reservation all without leaving Messages.
- Genius - Song lyrics and music app Genius has a Messages extension that allows users to look up lyrics to songs and then send them to friends. It's a handy way to share the lyrics to what you're listening to without having to look them up in Safari or another app.
- Truth Truth Lie (Free) - From the creator of SketchParty TV, Truth Truth Lie is a Messages game that allows users to record three video clips, two containing a truth and one containing a lie. The objective is to guess which ones are the truth and which is the lie.
- Square Cash (Free) - As long as you've connected the Square Cash app to your phone number and bank account, Square Cash for iMessage lets you quickly send money to your friends from within iMessage. You can choose an amount and send it in just a couple of taps, making Square Cash's already-simple money sending process even easier.
- Snappy Browser ($1.99) - Snappy Browser is a third-party browser that lets you use the web within Messages for looking up quick tidbits of information. You can look something up and then send a link without having to exit Messages to use Safari.
- ESPN (Free) - With the ESPN Messages app, you can watch game highlights in iMessage and share current scores with friends. It pulls data from from your ESPN account, displaying the teams you follow, and offers a quick way to send a score to keep someone up to date on a game.
- Momento ($1.99) - Momento is an app that scans your photos and makes GIFs from your images, which can then be shared in the Messages app. It takes two or more images that were taken at the same time and combines them, for quick little animations that resurface old memories.
Found an awesome app or game we haven't covered? Make sure to share it in the comments.