Apple's Online Store Down Ahead of iPhone 7 and Apple Watch Series 2 Pre-Orders
Apple has taken its online storefront down in order to prepare for the launch of the iPhone 7, the iPhone 7 Plus, and the new Apple Watch Series 2 models. Pre-orders are expected to begin at 12:01 a.m. Pacific Time or 3:01 a.m. Eastern Time on Friday, September 9.
Pre-orders will be available through Apple's website, the Apple Store app, several carrier sites, and from major retailers like Target and Best Buy.
Apple will accept pre-orders in first wave launch countries including Australia, Austria, Belgium, Canada, China, Denmark, Finland, France, Germany, Hong Kong, Ireland, Italy, Japan, Luxembourg, Mexico, Netherlands, New Zealand, Norway, Portugal, Puerto Rico, Singapore, Spain, Sweden, Switzerland, Taiwan, UAE, the UK, US Virgin Islands and the US.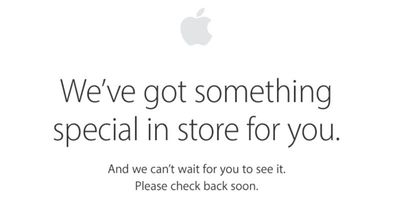 The 4.7-inch iPhone 7 is available in 32, 128, and 256GB capacities in the United States for $649, $749, and $849, respectively. The 5.5-inch iPhone 7 Plus is also available in 32, 128, and 256GB options for $769, $869, and $969.
Apple's iPhone Upgrade Program is available in the United States, United Kingdom and China, allowing customers pay a monthly fee for their iPhone 7 with the option of trading it in after 12 months of payments. Pricing, which includes AppleCare+, starts at $32.41 for the iPhone 7 and $37.41 for the iPhone 7 Plus.
Announced earlier this week, the iPhone 7 and the iPhone 7 Plus feature significant camera improvements, a 4-core A10 Fusion chip, better battery life, water resistance, a revamped pressure-sensitive Home button, stereo sound, new colors, and most controversially, no headphone jack.
Both the Apple Watch Series 1 and the Apple Watch Series 2 will also be available for pre-order. Prices for the Series 1 devices, which include a S2 processor but no other features, start at $269. Prices for the upgraded Apple Watch Series 2, which includes a GPS chip, better waterproofing, and a new display, start at $369.