Parallels Desktop 12 for Mac Comes With Sierra Support, Standalone Toolbox App
Parallels today announced Parallels Desktop 12 for Mac with support for macOS Sierra and the addition of several new features. The company also announced a new standalone app called Parallels Toolbox, which allows users to perform some simple tasks that aren't necessarily tied to virtualization.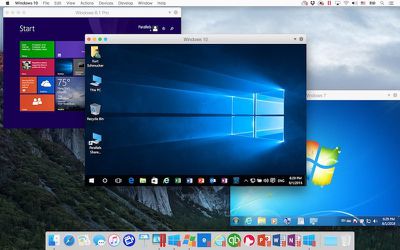 New features in Desktop 12 include having Windows 10 "always on" in the background, the ability to instantly launch Windows apps, the ability to schedule incremental backups and Windows updates, the ability to assign special behaviors to Windows apps, improved integration for Microsoft Edge, Outlook, and Office 365, and Xbox app support. Additionally, Parallels has partnered with Blizzard to provide specific support for the hit game Overwatch.
Version 12 also includes 90 percent faster snapshot creation, 60 percent faster suspension of VMs, 25 percent faster shared folder performance, 25 percent faster compilation of Visual Studio projects, and up to 10 percent in battery life improvements for "certain environments."


The company is also touting a new standalone app called Parallels Toolbox. The Toolbox places a drop-down menu in the Mac's menu bar, allowing users to do certain tasks more quickly. Tasks include the ability to record the screen, take screenshots, record audio, archive files, convert and download video, lock the screen and more.
Parallels Desktop 12 for Mac is $79.99, while Desktop 10 or 11 users may upgrade for $49.99. The Business and Pro Editions are also available with a subscription fee of $99.99 per year, although Parallels 10 and 11 users with perpetual licenses can upgrade for $49.99 per year. Parallels Toolbox can be purchased for $10 per year or will be included with your Parallels Desktop 12 license.
Parallels 10 and 11 users can
upgrade now
at the company's website. New users can purchase Parallels 12
starting on August 23
. Parallels Toolbox also launches August 23.