Apple's ConnectED Program Has Helped Over 32,000 Students
Apple today announced that its ConnectED program, which saw the company donating $100 million in products to schools and teachers across the country, has impacted the lives of more than 30,000 students.
As of the 2016-2017 school year, there are 32,145 students at underserved public schools who have received iPads from Apple to bolster their education. Teachers have received more than 9,042 Macs and iPads and Apple has helped to install 189 miles of internet cable in schools.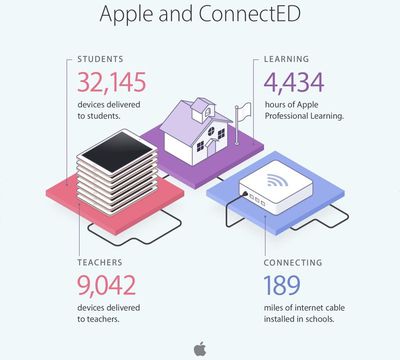 Along with equipment, Apple sends Professional Learning Specialists to schools around the country to help administrators, teachers, and students get the most out of the technology.
The latest school to join Apple's ConnectED program is the Carver Elementary School in Indianola, Mississippi, the 66th ConnectED school. Carver Elementary School has 701 students, all whom now have iPads with educational-focused apps to work with.
Apple joined ConnectED, a $750 million corporate educational initiative announced by President Obama, in 2014 and has since remained committed to providing underserved schools with cutting edge classroom equipment. Other companies involved in the ConnectED initiative include AT&T, Verizon, and Microsoft.