iOS 10 Beta 3 Tidbits: iOS 9-Style Touch ID Option, New Keyboard Sound, and More
With any major beta update, there are several small changes and tweaks as Apple aims to refine the operating system ahead of its public release, and iOS 10 beta three, seeded to developers this morning, is no exception.
Today's update, available as an over-the-air download for those who installed the first two betas or the beta configuration profile, features new Touch ID accessibility options, new haptic feedback when locking the iPhone, better keyboard sounds, and more.
We've rounded up all of the new features in beta three in the video below, so make sure to check it out to get a quick look at what's changed. We're also listing the changes in the post below.
Locking haptic feedback
- When locking an iPhone 6s or 6s Plus, there's a small haptic vibration to let you know the device has been properly locked. On other devices, there's a new sound when pressing the power button.
Touch ID - There's a new Accessibility option that allows users to open an iPhone with Touch ID with just a finger on the button, which is the way Touch ID worked in iOS 9. The setting was initially added in beta two but wasn't functional.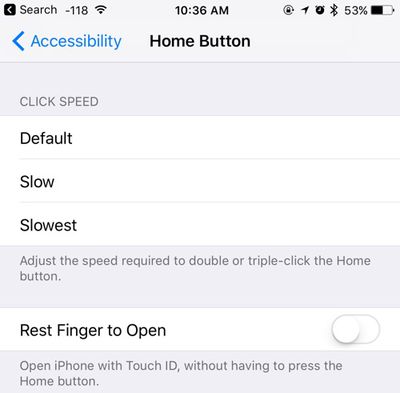 Keyboard sound - The muted popping-style keyboard sound that was introduced in beta one and removed in beta two has been reintroduced in beta three.
Siri - In Settings, there's a new "App Support" section of Siri that will display information on which apps work with Siri and access your data.


Audio fix - Audio playback through the internal speaker will no longer stop because of haptic feedback.
Quick Actions - In iOS 10 beta 3, a 3D Touch on an app icon will now bring up a Share option that includes the name of the app. Previously, the app name was not included.


Health - There's a new "Improve Activity" option that allows you to send anonymous health-related information to Apple under Settings --> Privacy --> Diagnostics and Usage. When you open the Health app for the first time in iOS 10, there's also a pop-up that gives you the option to enable it.


iOS 10 beta three will likely be seeded to public beta testers later this week. Apple will release iOS 10 to the public at the end of the beta testing period, likely in September alongside new iOS devices.