Apple Faces Patent Lawsuit Over iPhone's Battery Technologies
Somaltus, LLC has filed a complaint against Apple today in an Eastern Texas district court, accusing the iPhone maker of infringing upon its 2010 patent related to complex battery technologies. The small Frisco, Texas-based firm also filed lawsuits against Asus, Lenovo, Samsung, Sony, and Toshiba over the same patent.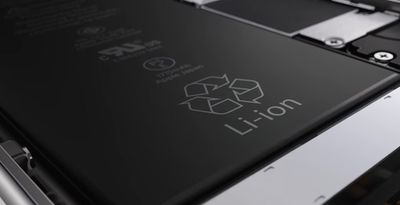 The lawsuit claims that the iPhone 6s and any similar devices sold by Apple infringe upon U.S. Patent No. 7,657,386, titled "Integrated Battery Service System," and seeks unspecified monetary damages or, alternatively, a running royalty on sales of infringing devices from the time of judgment going forward.
Defendant sells, offers to sell, and/or uses telephones including, without limitation, the iPhone 6s (the "Product"), for example, and any similar devices, which infringe at least Claim 1 of the '386 Patent.

On information and belief, the Product includes a battery service system including a processor (e.g., the A9 chip), which is configured to receive signals from connectors coupled to a battery (e.g., the Product's rechargeable lithium-ion battery).
Specifically, it appears that the infringement claim at least partially relates to the iPhone's process of charging in fast-charge mode until the battery reaches 80% capacity, and then adjusting to trickle-charge mode above 80% capacity.
On information and belief, the processor executes the control codes to continually adjust a charge level to the battery. The Product has a charging system according to which the system operates in fast-charge mode until the battery reaches 80% capacity and then adjusts to trickle-charge mode when the capacity exceeds 80%. When the capacity drops below 80%, the system gain adjusts to fast-charge operation. The purpose of the system is to reduce the charging level applied to the battery at high capacity in order to extend the battery lifespan. Thus, the system adjusts the charging level applied to the battery and does so continuously as the battery charge capacity repeatedly exceeds and drops below 80%.
Somaltus, LLC generally fits the description of a "patent troll," as it does not appear to provide any obvious products or services and lacks an easily identifiable online presence. Nevertheless, it has successfully reached out-of-court settlements with automakers like Ford and Nissan in the past in relation to the same particular patent.
The legal complaint's case number is 2:16-cv-00758 in the U.S. District Court for the Eastern District of Texas.